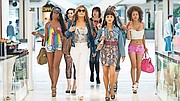 By ALESHA CADET
Tribune Features Reporter
acadet@tribunemedia.net
To help provide Bahamian women with a brief escape from the heartbreak caused by Dorian Hurricane, or just from their daily stress, Fusion Superplex is hosting its second themed ladies' night event this week.
This time around it's called "Lady Like" and will feature a movie perfect for a girls only night out: the critically acclaimed "Hustlers" movie starring Jennifer Lopez, Cardi B and Lizzo, to be shown in the VIP theatre Pure.
To complement the film's plot – which follows a crew of strippers in New York City who begin to steal money by drugging stock traders and CEOs who visit their club – vendors like Girl On Pole Dance Studio will be present at Thursday's event.
Others vendor booths which can be perused and enjoyed prior to the 8pm showtime include Bella Mente Spa, Shots Photo Booth, Silver Thatch, Cheeky, and Commonwealth Brewery's 120 Featured Wines. The vendors were selected
Chief Marketing Officer for Fusion Superplex Nikolette Elden told Tribune Woman their ladies' night is just one of a number of diverse events and initiatives geared towards highlighting the importance of Bahamian women. She believes the event is a great way to let off some steam, especially in stressful times like these. Ms Elden also explained why the event was postponed until this week.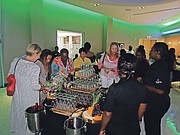 "The reason we delayed the event was because we didn't want to be insensitive, knowing what people are dealing with at this very moment (in the wake of Dorian), but we realised when we released the information for our NFL party persons said they needed an escape. It has been horrific, and everybody has been on an emotional roller coaster," she said.
"We are not taking away from the tragedy at all, that is not our intent, but (we want to) provide people with an escape where they can come to let their hair down and have fun with other ladies and go and enjoy a movie. We have entertainment, we play games. Ladies win prizes before they go into the movie and they have an opportunity to browse and shop. Everything is going to be peacefully done."
Since launching in May with the movie "The Hustle" starring Ann Hathaway, Ms Elden there has been a great demand for more ladies' nights. Therefore, Fusion will now make it a monthly event for the remainder of the year.
"Coincidentally, the series started with the movie called 'The Hustle', and this one is 'Hustlers'. It will be a different theme for every movie. We are branding the ladies' night concept and it is a part of our signature event series. The next movie in October is going to be 'Maleficent' starring Angelina Jolie," said Ms Elden.
She noted that the vendor Silver Thatch will be donating part proceeds from whatever is made on Thursday night to a Hurricane Dorian relief initiative, and Cheeky is geared to do a bra drive for those in need.