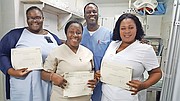 By FELICITY INGRAHAM
With 13.6 percent of the population of the Bahamas suffering from diabetes, the country is at an epidemic status. Each year, more than more one million diabetics around the world lose at least a leg. Research has shown that 85 percent of all amputations are preceded by an ulcer and can be prevented.
For this reason, Dr Daniel Johnson is leading a team which is training nurses in New Providence and the Family Islands to help reduce the number of diabetic-related amputations in the Bahamas. The five-year death rate following a diabetic foot ulcer or amputation is almost at 50 percent, higher than in persons with prostate cancer and breast cancer. Alarmed by these numbers, Dr Johnson called together local and international podiatrists to assist in saving as many limbs as possible. The "Show Me Your Feet" team has already successfully trained nurses in Abaco, Freeport and the Berry Islands.
The campaign will head to Cat Island, Exuma and Eleuthera next, ahead of the first annual international Show Me Your Feet Diabetic Foot Conference. Nurses and support staff at all of the government clinics who have so far participated showed great interest in learning about ways to help patients save their feet. Following their training, they can properly advise patients on proper foot care for the prevention or proper treatment of foot ulcers.
Last year, when the Bahamas Podiatric Medical Association hosted its conference, international podiatrists such as Dr Victor Horsely of Belleville, Illinois, and Dr Stan Kalish of Jonesboro, Georgia, showed local medical professionals how feet can be saved from amputation with cutting edge medical procedures. Dr Deborah E Raine was presented with a lifetime achievement award for more than 40 decades of dedicated service to the Bahamas.
"The Show Me Your Feet" conference, a Cure Diabetes event, will be held November 8 at the University of the Bahamas starting at 8am.