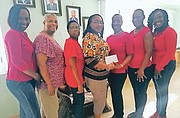 Ambrosine Mitchell has made it her mission to help Bahamians shine in the workplace
As the newly elected president of the Bahamas Association of Administrative Professionals (BAAP) she is seeking to engage "creative thinkers" in order to propel the organisation to the next level.
"In order for an organisation to grow, we have to do things differently. Times have changed and creative thinkers can spearhead new projects to achieve the association's goals and put BAAP in the public's eye," said Ms Mitchell.
BAAP, which has been in existence for four years, was formed after the International Association of Administrative Professionals (IAAP) dissolved its chapters worldwide, which meant the Bahamas chapter also ceased to exist. Some members expressed the need to form a local organisation, which resulted in the present-day association.
Ms Mitchell, who is president for the term 2019/20, said her theme for the year is "preparing professionals to purposefully shine in the work place." She plans to achieve this by having well-versed guest speakers during the monthly meetings, encouraging members to attend IAAP summits, where office professionals from all over the world convene annually, and allowing members to grow professionally by taking on leadership roles in the organisation.
In July of this year, a slate of new officers was installed. Ms Mitchell was installed as president, Merlande Barrett as vice president, Edith Bodie as secretary, Joyce Quant as treasurer, and Wendy Ferguson as advisor.
The organisation invites office professionals – secretaries, administrative assistants, office managers and executive assistants – to join. BAAP is looking to attract new members through its upcoming membership drive in October.
"As a member of BAAP I have been afforded the opportunity for professional training and networking with persons in my field," said Merlande Barrett, vice president of BAAP.
While developing administrative professionals is paramount to the organisation, giving back to the community is just as important to this group of office professionals. In August, they presented a cheque to the Bahamas Children's Emergency Hostel for the further development and care of the children at the home.
As BAAP charters a new course to encourage creative thinkers within their organisation, they invite other office professionals to help steer the course by attending monthly meetings every third Thursday of the month at Holy Cross Anglican Church, Highbury Park, at 6pm. For more information about BAAP, e-mail ambrosinemitchell@gmail.com.