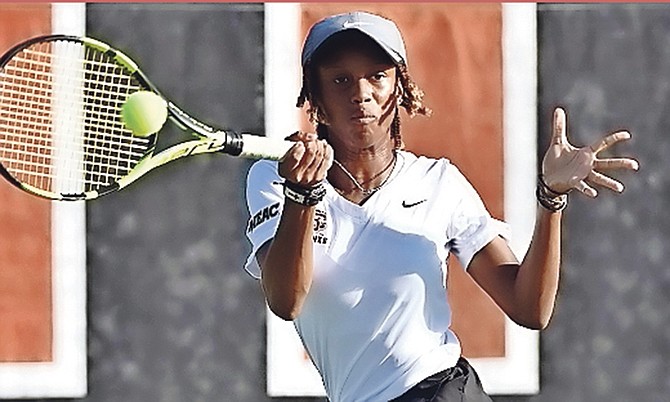 BAHAMIAN female tennis players Afrika Smith, competing for the Bethune Cookman Wildcats, and Iesha Shepherd for Jackson State University Tigers, both made an impression at the HBCU National Championships tournament this past week.
The HBCU National Tennis Championship is open to HBCU schools in 15 participating collegiate institutions with over 250 players competing.
The colleges competing were Alabama A&M University, Bethune-Cookman University, Bluefield State College, Clark Atlanta University, Florida A&M University, Grambling State University, Jackson State University, Johnson C. Smith University, Morgan State University, North Carolina A&T University, Shaw University, Southern University and Xavier University of Louisiana.
Smith, a 5-7 freshman, played in flight C category and advanced to the C finals at the HBCU National Championships.
In the round of 32, Smith defeated Lindsey Dixon 6-1, 6-0. In the round of 16 Afrika defeated Natalie Malone of Georgia State University 6-2, 6-0. In the quarter-finals, Smith defeated India Woods from Alabama A&M [AAMU] 6-2, 6-3.
In the semi-finals, she defeated Ayana Rengiil [AAMU] 6-1, 6-1.
Smith faced Arielle Nealy of Florida A&M in the Women's C Flight final where she lost 2-6, 2-6.
In doubles, Smith teamed up with Godbolt and they made it to the quarters where they lost to Ruiz Diaz and Woods [AAMU] 3-6. "Our players came ready to play and are displaying maximum effort," said interim head coach Robert 'Tony' O'Neal as he spoke about Smith and her teammates.
Shepherd, who moved from Chicago to Jackson State University this season, participated in Flight B singles and Flight A doubles.
Shepherd, now in her freshman year, was instrumental in her team placing 3rd overall at the HBCU event as she made it to the semifinals in singles and doubles.
In singles quarterfinals, she won over Michigan State's Averinia Mitchell and was defeated by Rachel Harden in the semifinals.
In doubles, Shepherd teamed up with Zhang defeating Boyd and Boscu of AAMU in the quarters, but they loss in the semis to the number one ranked Bashir and Charles-Alfred of Xavier University.
The Bahamas Lawn Tennis Association congratulates Smith and Shepherd on a really good start to the collegiate tennis season as we wish them well and look forward to continuing tennis exploits.