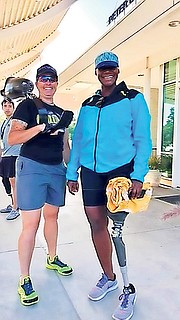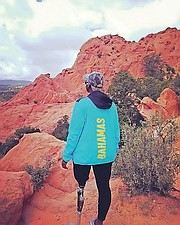 By JEFFARAH GIBSON
Tribune Features Writer
jgibson@tribunemedia.net
Erin Brown, the Bahamian para-triathlete who has her sights set on participating in the 2020 Summer Paralympic Games in Tokyo, recently wrapped up a "painful yet rewarding" training experience at a special centre in Colorado.
Last month Erin fully embraced an opportunity no other Bahamian para-triathlete was given by being selected to train at US Olympic and Paralympic Training Centre Velodrome in Colorado Springs, at the foot of the Rocky Mountains.
The centre opens it doors to para-triathletes from around the US with various amputations. Each year, the US Olympic, and now Paralympic Training Centre, provides opportunities for para-athletes to train in their specific disciplines.
Erin is a cancer survivor who lost a leg to the disease. After training this year with the Dare2Tri paratriathlon camp, Erin was contacted about applying to participate in the centre's para-triathlon sessions. She put forth her application and waited for confirmation that she had been selected.
The disciplines covered during the intense few weeks of training included swimming, cycling and running, from techniques to transition and rules.
Though she was unable to travel with her bike due to the cost, one was provided for her at the training centre.
"Our schedule was intense. We are usually up and moving in a discipline (swimming, running and or cycling) by 8.30am, with breaks to transition, rest and refuel. Sessions on strategy have been most helpful as things most certainly go wrong during race preparation, transition or on the course," she told Tribune Health.
"Intense, painful and rewarding" was how she summed up the entire experience.
"The US Olympic & Paralympic Training Centre in Colorado Springs is approximately 7,000 feet above sea level. Being the para-triathlete living closest to sea level has been very adventurous to say the least. Yet each day my breathing improved, migraines lessened, and the muscle cramping is less frequent," she said.
While this has been a major step towards seeing her dream realised, the disability advocate still needs additional funding and some qualifications before heading to the Paralympic Games.
"I am beyond inspired, accepting the invitation was inspiration...actually showing up and being able to train with other ambulatory para-triathletes... I am determined to improve and develop more in-depth skills."
When Erin first publicly announced her desire to compete in the Paralympic Games back in August 2017, she launched a Go Fund Me campaign to raise $5,000 to assist in getting the right prosthetics to enable her to compete. Over the course of this journey Erin has needed continuous financial backing. She believes it is a worthy cause and that her participation will put the Bahamas on the map.
"I need consistent financial support, access to training facilities and coaches and trainers willing to be adaptable to the specific needs of a para-athlete. Also, being able to don...my country's colours would increase the chances for me to compete in International Triathlon Union (ITU) sanctioned races – a must to start and compete – and even the United States of America Triathlon USAT sanctioned races which are affiliates."
Shows of support have been "few and far between", and mainly from personal investors and groups which made special sacrifices to assist her, but she is grateful for everyone who has helped her on her way.
While Erin's dream needs her full attention, for a moment she will pause to help those rebuild who have been impacted by Hurricane Dorian.
"I will be joining to help our Family Islands damaged by the Hurricane to rebuild an inclusive nation with focus on our disabled community receiving services, support and supplies needed," she told Tribune Health.