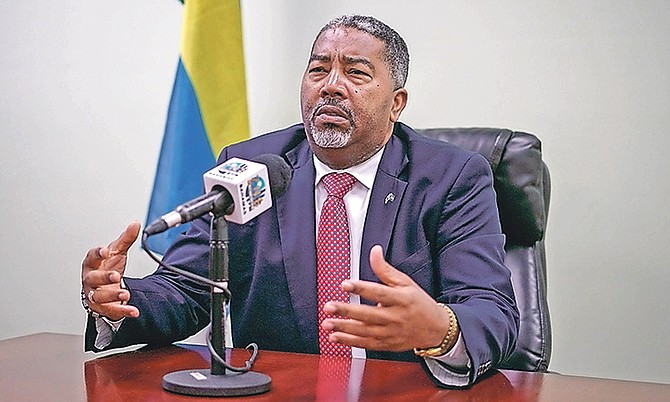 By RIEL MAJOR
Tribune Staff Reporter
rmajor@tribunemedia.net
FRANKIE Campbell, Social Services and Urban Development Minister, said legislation will be drafted by the end of the year prioritising the vulnerable in society, such as the elderly.
During a recent interview, Mr Campbell said the legislation will be benchmarked against neighbouring countries with similar cultural backgrounds as well as more developed nations.
Mr Campbell said: "I can say to you that the legislation will make it against the law for older persons to be mistreated, for older persons to be abused, and it will make it against the law for older persons to be deprived of anything that is rightfully theirs.
"Once they would have gotten to a point of completion, there will be some public consultation and I believe at that time the details will be shared."
The government has also established an Older Persons National Council, which is headed and chaired by former House of Assembly Speaker Italia Johnson.
In an interview with The Tribune, Parliamentary Secretary for the Ministry of Social Services and Urban Development Michael Foulkes spoke of the proposed legislation and the team that is working on it.

"(The team) includes people from the Attorney's General Office, two attorneys from the Attorney's General Office and almost all of the governmental agencies are represented, and we are going through a process of looking at all of the various sections of the bill that has been proposed.
"In fact, there has been three iterations of a bill, but it was never complete, and it has never come to Parliament. So, we are going through that now in its entirety, line by line, section by section. And, we are making very good progress on it, very good progress. We are intending on having a very good bill that's going to be brought to Parliament and as the minister said, Mr Frankie Campbell, hopefully before the end of the year."
He added: "Quite naturally what we have to do as he said we are going to bring it to the public because we want broad consultation and so we will encourage all persons, organisations and NGOs who assist older persons in our community to come to that meeting when we have it to have their direct input.
"They'll all have it, the Bill beforehand and they'll have an opportunity to give input as to what they think we ought to do, or what ought to change and that sort of thing. It's going very well I must say."
When asked why this bill is so important, Mr Foulkes said at this time the country doesn't have a law that "speaks specifically to older persons."
"There are a lot of issues in terms of how we care for older persons as mentioned…issues about abuse of older persons, earlier in the year we had a seminar on some of their financial arrangements, wills, banking information and how those things are treated," he said.
"There are a lot of different issues as regards to our older persons. There are concerns about how they are being treated by persons in the community broadly and we don't want to speak to any group of persons but broadly speaking we are concerned about how our older persons are being treated in some situations."
He added: "Those are some of the things in the Act we intend to speak to in the Act. Some enforcement, real enforcement, of some of those issues."