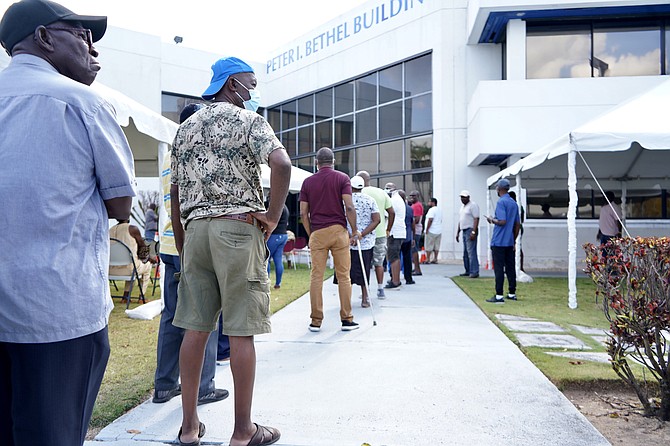 WEDNESDAY EVENING UPDATE: Bahamas Power and Light (BPL) said it would continue to suspend disconnections as long as the government maintains emergency orders due to the COVID-19 pandemic.
"The COVID-19 pandemic has presented enormous challenges," BPL CEO Whitney Heastie said in a statement. "When the government went to 24-hour curfew, as part of our efforts to ease the pain and stress of our fellow Bahamians, we suspended disconnections through March 31.
"Per our discussions with the government, I am happy to announce that the suspension of BPL disconnections will continue for as long as the government maintains emergency orders."
Mr Heastie encouraged Bahamians and residents to observe the curfew and the shelter-in-place orders. To that end, he highlighted the many electronic avenues through which customers can interact with BPL.
• Customers can pay via telephone at 302-1130 through 302-1142.
• Customers can pay online at www.bplco.com.
• Customers who have issues with logging into the online system can call 225-5275 (CALL BPL) or email pinreset@bplco.com for assistance with that particular issue.
• Customers can pay online through private banks by selecting BPL as a payee through the private bank's bill paying mechanism.
Mr Heastie added, "Again, we recognise this is a difficult time. That's why together with the government we have introduced deferred payments for those directly affected by COVID-19. Our COVID-19 Relief Programme covers three categories of persons: residential customers who are diagnosed with the COVID-19 virus, residential customers who are in quarantine due to the virus, and residential customers have been laid off as a result of the virus."
The BPL COVID-19 Relief Programme allows customers who meet the criteria listed to defer payments on their BPL bills for an initial period of three months. For qualification and registration criteria, customers can email covid19@bplco.com or use CALL-BPL.
"As Bahamians continue to cope with the unprecedented challenges of this virus, we at BPL are committed to assisting our customers as best we can through the difficulties ahead," Mr Heastie added. "In addition to the COVID-19 Relief Programme, we have our regular payment plans that are accessible to our customers as a means to deal with outstanding arrears, and we have instituted a special assistance programme for customers over the age of 60."
To access any of the assistance programmes, customers are asked to contact CALL BPL (225-5275).
12.50pm UPDATE: Minister of Works Desmond Bannister has advised Bahamas Power and Light (BPL) to cease disconnections. However, BPL CEO Whitney Heastie has said, while the disconnections will stop, people who can pay their bills should do so and contact BPL by phone for options.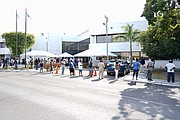 LONG lines formed at Bahamas Power and Light Wednesday morning as residents flocked to the utility provider to pay their bills and avoid disconnection.
The Tribune met scores of people queuing around BPL's Blue Hill Road location this morning. There was reportedly a similar scene yesterday. Although many tried to keep their distance from others, they did not appear to be the recommended six feet apart to prevent the spread of COVID-19. Some wore face masks.
BPL had initially halted disconnections until March 31 in light of the pandemic and economic crisis. However the government-owned utility has announced that disconnections would resume today.
Progressive Liberal Party Leader Philip "Brave" Davis said in a statement that the decision could not come at a worst time when "massive increases in job losses and applications for social assistance and unemployment benefits are with us."
For more on this story, see Thursday's Tribune.