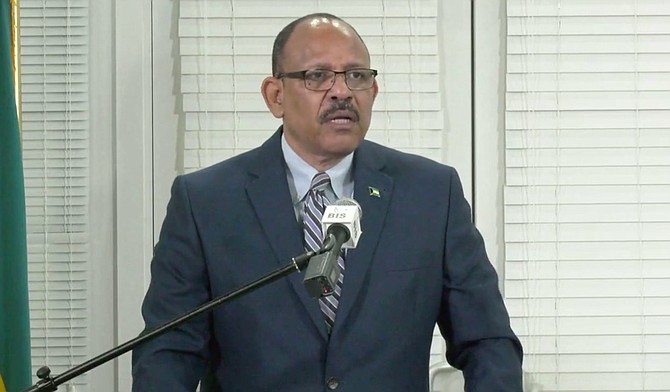 By RASHAD ROLLE
Tribune Senior Reporter
rrolle@tribunemedia.net
HEALTHCARE officials have projected that the country will have nearly 90 confirmed cases of COVID-19 by Sunday.
That forecast came as officials revealed the seventh COVID-19 death in the country, that of a 51-year-old Grand Bahama woman who died on April 6. Her positive test was confirmed posthumously. There are now 40 confirmed cases of COVID-19 and 394 people have been tested for the virus.
The four latest cases include three people in New Providence and one in Grand Bahama, including two men and two women. Their ages range from 38 to 60.
Health Minister Dr Duane Sands said at a press conference Wednesday afternoon that most patients are doing well but some are very ill.
He said officials are concerned about hotspots, including areas east of East Street in New Providence; south of West Sunset Highway in Grand Bahama and the immediate areas east of East Mall Drive, Lucaya and Williams Town.
He also announced that employees of clearing banks and wholesale food distributors will be allowed to join healthcare workers and law enforcement officers in shopping tomorrow morning as essential workers. Other essential workers will be allowed to shop Thursday afternoon.
A nationwide lockdown begins 9pm tonight until 5am Tuesday.

This comes as Prime Minister Dr Hubert Minnis has mandated that all people leaving their homes during this state of emergency must wear a mask that covers their face and nose. He said exempted businesses which are allowed to operate can refuse entry to someone not wearing a mask.
Dr Merceline Dahl-Regis, coordinator of the government's COVID-19 response, said officials are considering various models for forecasting cases but have settled for the moment on an exponential regression model used in situations where growth begins slowly then accelerates quickly.
She said: "Based on that forecast, there is a prediction of almost 90 cases by Easter Sunday but we're hoping the model is not an exponential one, but as we graphically look at it, we're a little concerned. We look at the number of cases and the interval each day. So if you had four yesterday, four today, you had none the day before and four the day before that, we look at those cases and we plot them."
To date, the Bahamas has a COVID-19 mortality rate of 17.5 percent, one of the highest in the world.
Dr Nikkiah Forbes, infectious disease expert, said this rate reflects the country's limited ability to do widespread testing because of the limited number of COVID-19 test kits in the country.
Photo Gallery
Four GIS maps shown at the Press Conference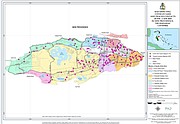 ALL TRACED CONTACTS HAVE BEEN CONTACTED BY THE SURVEILLANCE UNIT, SELF QUARANTINED, AND MONITORED.
"Those cases that did pass on," she said, "they were older in age and they had other medical comorbidities such as diabetes and hypertension, obesity and lung problems like asthma. I have no doubt that as we increase our capacity to do testing we will see that mortality rate balance out but this is a reflection of the section of the population we have been able to test, those with moderate and severe manifestations."
Asked when Bahamians will know whether the epidemic curve is flattening, Dr Sands said the country is nowhere near that point yet. "We are in the surge," he said. "What we will do is look at the number of people with complaints of flu-like illness, fever and other signs of COVID, we will look at the number of people in our emergency rooms and hospitals and gradually we will start to see a reduction. Then we can start to consider whether it is safe to ease up on the restrictive lockdowns and curfews but we're nowhere near there yet."
Dr Dahl-Regis admitted there is difficulty tracking contacts of confirmed cases.
"You would imagine if you have a Wendy's worker who has serviced the public, it will be quite a challenge for that person to identify all possible contacts," she said, several days after a Wendy's employee tested positive for the virus. "It's quite a daunting task but we have a full service team and many volunteers who are helping us with this."
She also admitted it is difficult to say how many people directed to self-isolate are obeying the order.
"We can only hope that those who have agreed to quarantine in their homes are compliant," she said. "We ask them not to go out in the public to shop. We know that some are compliant, we know that for a fact, and the nurses check everyday with those who are in quarantine and for the most part they are compliant."
Asked about the health of Prime Minister Dr Hubert Minnis, Dr Dahl-Regis said he is being monitored and has not been tested for COVID-19 because he does not meet criteria for testing at the moment.
Of the confirmed COVID-19 cases, 33 are in New Providence, six are in Grand Bahama and one is from Bimini.