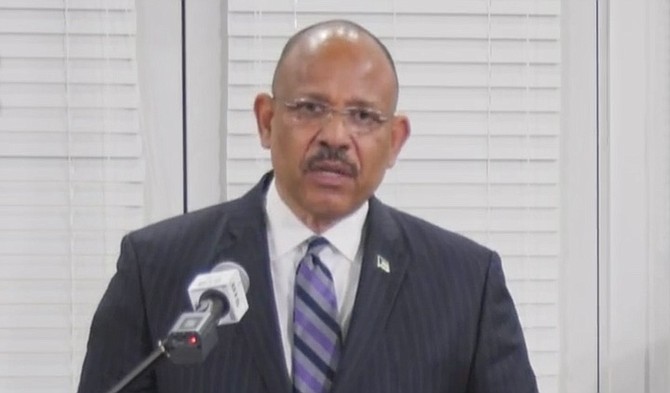 By LEANDRA ROLLE
Tribune Staff Reporter
lrolle@tribunemedia.net
HEALTH Minister Dr Duane Sands is again urging the country to take the COVID-19 threat more seriously, saying Bahamians are particularly "vulnerable" to the infectious disease due to a high rate of non-communicable diseases in the country.
This, according to the health minister, is one of the reasons why Bahamians should adhere to the social distancing policies implemented by the government – to limit the spread of the disease.
He said: "The Bahamas is the poster child for non-communicable diseases.
"We have a disproportionately high rate of morbid obesity, of hypertension (and) of diabetes. You put that together with questionable discipline as it relates to social distancing and you have the recipe for a perfect storm.
"And so, we need to understand that we are vulnerable to this virus because of our comorbidities and that ought to mean that we should be even more disciplined in our social distancing strategies, not less."
He continued: "We didn't get here overnight. The evolution of NCDs in The Bahamas has been progressive. It has been intractable and now, with this virus, it brings all of these things home.
"Understand that the decisions that are being made are being made because of the peculiar reality of The Bahamas and Bahamians. So, we have to exaggerate the measures, the public health measures if we want fewer people to die or fewer people to suffer."
Dr Sands made the comments outside Cabinet yesterday after being asked by reporters whether officials were concerned about the country's COVID-19 mortality rate.
However, he said: "I think the numbers are small but if you look at what we believe we know about COVID-19 is the people who do worse are those with comorbidities and non-communicable diseases."
Up to press time, there were six confirmed deaths out of 33 COVID cases in the country, meaning there is a mortality rate of 18 percent.
Noting "things could get worse before they get better", Dr Sands said it is important for Bahamians to come together.
"We've already had 33 confirmed cases. We've already had five deaths in the country," he said, before the sixth death was announced. "That is not a good record and we are still in the surge. We haven't peaked yet. Things could get worse before they get better.
"So, think about some creative ways on how we can get around this… This is now a time for us to collectively come together, put our heads together and think of some solutions."
One challenge for health officials in this fight against COVID-19, Dr Sands said, is identifying size-friendly isolation tubes. The containment tubes are used to transport infected patients.
He said: "The pods acquired by air ambulance, I think, came at a price at $10,000 each so some are reusable, and some are not. We also identified additional pods that we had in our inventory from the EBOLA crisis. We have also have coming a number of other pods.
"(But), one of the challenges is we have to find devices that can fit our population and I don't want to be insensitive at all, but some of the isolation tubes can only carry people up to a certain size.
"And, so we have this peculiar challenge to find isolation tubes that can fit somebody who is 300 pounds or 350 pounds because that is us. So, we're working to get through this. Some of the supplies simply don't make them that big.
"Hopefully, we will not have a problem with any particular patient."
The absence of isolation chambers and other critical medical supplies sparked concerns about the readiness of Family Islands for COVID-19 after Bimini resident Kim Johnson-Rolle died from complications related to the infectious disease.
Relatives said it took some 24-hours to get her from Bimini, where she began experiencing symptoms, to New Providence where she died soon after arrival. Mrs Rolle was the country's first COVID-19 death.
While noting that the matter was still under investigation, the health minister said: "The need for an isolation tube to safely transport the patient was the critical issue and again, I think we need to recognise those individuals who put their health on the line in order to transport that patient to New Providence."
Asked by reporters whether he thought people who died of COVID-19 needed to be cremated, Dr Sand replied there was no "public health reason" for this to occur.
"The World Health Organization has put out a position that there's no difference between burial or cremation. So, at this point, we have not taken a position one way or the other," he said. "Ordinarily, Bahamians have tended more towards burial than cremation.
"There is no public health reason as to why people have to be cremated. With that said, some people may choose to have the remains of their loved ones kept in storage pending the completion of the surge and the possibility then might arise for a funeral.
"That could potentially create a challenge with storage facilities. And notwithstanding the politics of coolers, refrigerated coolers, we need to be able to plan for an increased capacity. God forbid that we should have (a number of) deaths. Where are we going to keep these remains?"