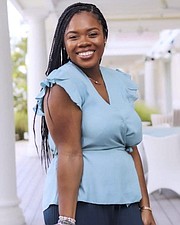 By ALESHA CADET
Tribune Features Reporter
acadet@tribunemedia.net
For weeks now, Katherine Coakley has been spending considerable time every day praying for the Bahamian families impacted by the consequences of the COVID-19 pandemic, especially those who were already struggling to make ends meet before the shutdowns and lockdowns were implemented.
But in addition to praying, she also wanted to do something more tangible and came up with a strategy to raise money and collect groceries for single mothers in need.
"As persons began sharing publicly about lay-offs my heart was shattered for employees that were sent home temporarily without pay to lessen the spread of COVID-19. I knew that families would be financially and emotionally challenged by this transition and my heart was moved. A threat like this cannot be fought by the government alone, and I realised that we were fighting more than an infection, but fighting for the hope of Bahamian families," said Katherine.
As president of the faith-based Purpose Made Me Do It organisation, Katherine initially decided she would privately assist five single mothers during this time. As her organisation had already exhausted its annual budget due to plans put into motion for events later this year, Katherine reached out to several individuals who helped to compile a list of names of women in need of groceries and other essential items.
"Strategically thinking, I decided that more could be done if I had more help. I took my passion to social media and invited persons to join me in helping single moms. The goal was to bring awareness to those in need of food items during this time. I challenged persons to shop for a bag of groceries during their allotted grocery shopping times for someone they may know in need. In keeping with social distancing, suggestions were given to call a person ahead of time and leave the food items on their porch to collect. Should they desire to give funds only, a one-day shopping schedule was created and those who wanted to help could donate to further the current grocery bag amount," she explained.
Katherine and her team even encouraged volunteers to write personal messages of hope to be included with the bags of groceries to lift the spirits of these single mothers. As a result of the generous donations, she said, 25 bags were distributed; bags that included items like tuna, corn beef, Kraft macaroni and cheese, ramen noodles, rice, grits, spaghetti, feminine toiletries, soap, deodorant, and toothbrushes.
"Many others joined the challenge and donated financially to homes and personally shopped for others. When we closed our window of donations, we encouraged persons to assist other organisations in their efforts. This initiative was inspired by persons who were affected by the necessary measures that our government took to preserve lives but intensely impacted Bahamian families. We are in a time where it is easy to become so fearful that we forget our neighbours. In Bahamian terms, 'every man for themselves'. I wanted to lend a perspective to the nation that may not be at the forefront of minds right now. In the past, I have gained support from mom and pop stores, small businesses, and large businesses here in the Bahamas. There were times I personally have been challenged financially and strangers helped," said Katherine.
Her goal going forward is to help coach Bahamians out of fear and back to hope. And while this may not be a time where people will want to spend lavishly, this is also not the time people should lose compassion. She believes initiatives like these are important because they ground people in faith and weaves them together regardless of who they are.
Katherine's Purpose Made Me Do It organisation is best known for its philanthropic initiatives and advocacy for Bahamian communities and families. The focal point of the faith-based NGO is to empower individuals to picture themselves beyond their circumstances and take steps toward becoming the best versions of themselves.
"I wanted Bahamians to know that this is not the end for us, whether you are giving a donation or receiving it. In times of crisis we need positivity in action to combat the fear and frustration that will try to hold us hostage. What defines a people is who they become when they are down, I wanted to encourage the Bahamian family that our character should remain intact. I also knew that there would be persons that would want to help but would not want to leave their homes. Creating an avenue for persons to give to each other is important to me, especially during uncertain times like these. I believe initiatives like this have the power to bring humanity back to communities and create space for us to be creative in our desires to help," she said.
"I hope that this effort makes us more empathetic to the realities that others are facing. There are people that worked outside of tourism that do not have the opportunity to collect benefits. The lines at Social Services are long and children are hungry now. We all live very different lives and sometimes things happen to put what truly matters into focus. If we could encourage families, churches and other civic organisations to help in a financially challenging time like this, we would've touched a life, strengthened an immune system and kept a family home a few days safely."
Katherine said she incredibly grateful for the overwhelming support of those that assisted in the initiative. And with all the social media shares, there are still people who are emailing and inquiring about ways to give.
"Bahamians happily helped each other despite their personal struggles. Their generosity multiplied five bags to 25 bags and two monetary donations. The mothers that received the packages were so grateful. There was a mother someone on the team noticed - a familiar face walking home to her seven kids. We pulled to the side of the road and gave her two bags of groceries. I believe that it was a blessing and it lifted her spirit. There are more stories, but I am grateful that they got to experience help with no strings attached. At a time like this, the only security we have is grace. I encourage everyone who will read this message to use this time to get to know Yahweh because He is the ark of safety. We can follow all the medical advice and safety precaution but ultimately, He is the author and finisher of our faith. As an entrepreneur and visionary, my mind lives in the future so much that I have to ensure that I fully embrace the now. During quarantine, I have been using this crisis to create. During every crisis there is an opportunity," she said.