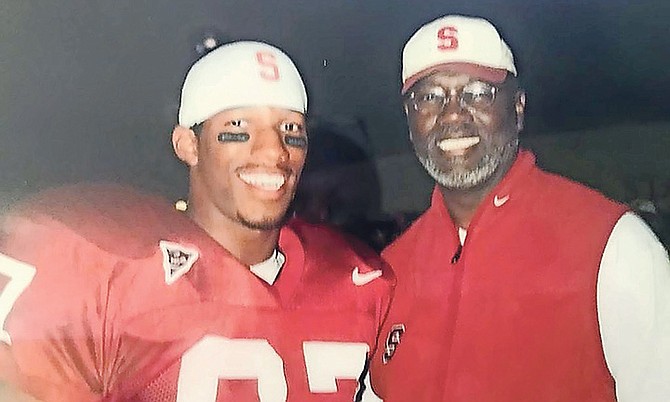 By BRENT STUBBS
Senior Sports Reporter
bstubbs@tribunemedia.net
Very seldom do you hear about a father-son combination excelling in sports, whether it's at the local or professional level. The sport of football is one of those rare ones and to have a duo accomplish that feat from the Bahamas is extra special.
In 1976, Ed Smith broke the ceiling as the first Bahamian to play in the National Football League when he was selected in the 13th round by the Denver Broncos as a defensive end specialist. Almost three decades later, his son, Alex Smith, was selected in the third round by the Tampa Bay Buccaneers to play as a tight end.
The duo emerged as the first Bahamian father-son tandem to play professionally and one of the very few to do so in any other sport. Another combo of is Mychal 'Sweet Bells' Thompson and his son Klay Thompson, who embraced the National Basketball Association, both as champions for the Los Angeles Lakers and the Golden State Warriors respectively.
The Smiths had a chance to reflect on the NFL's 2020 draft held over the weekend when for the first time, due to the ongoing coronavirus pandemic and without all of the fanfare in the audience, it was viewed virtually with cameras installed in the homes of all coaches and general managers.
NFL Commissioner Roger Goodell announced the picks from the basement of his home in Westchester, New York, and the reactions of the top selections were also shown with their family at their homes.
Unfortunately, no Bahamians were selected in the field of 250 players in the seven rounds by the 32 teams in the league, although Chris Ferguson, a former student of CR Walker who went on to play at the Lake Nona High School in Orlando, Florida, was hoping to be the next Bahamian drafted out of the University of Cincinnati Bearcats programme.
But the 6-foot, 5-inch, 310-pound offensive tackle, who secured a bachelor's degree in pre-law and marketing, didn't make the cut.
As the 69-year-old Smith puts it, it's not as easy as people think for a player to hear his name called on Draft Day. "Once you get a chance to play at the high school and the collegiate level, the professional level is the apex of what young men look to do," he said. "At that point, you are getting compensated for it and you get a chance to compete against the best players in the world. That is what a lot of young men look forward to."
On the way the draft was conducted this year, Ed Smith said it was an excellent idea.
"Due to the pandemic, Roger Goodell and the league did a great job in presenting the draft over those three days," he said. "The viewership, especially on day one, was way off the chart, especially because right now, there's nothing else on the television sports wise because a lot of people got tired watching the reruns in the various sports like football, basketball, baseball and soccer. It was definitely a special thing that they welcomed.
"Millions of fans around the world got to see their teams in a different light, watching these young men go after a lifetime dream of becoming an NFL player."
Compared to when he cracked the NFL, Ed Smith had already returned home in the Bahamas after he finished high school at Colorado College in Denver to start working. He got a call from a former collegiate team-mate who had informed him that the Broncos were interested in drafting him and he wanted to be his agent.
"After the draft, he told me that the Broncos had taken him with the 319th pick in the 13th round. Back then, there was about 15 rounds because each team had the opportunity to draft about three players," he recalled.
"It wasn't the big fanfare that we see with the draft before they changed it this weekend. It was pretty much done in the NFL headquarters. The general managers sat in their offices and called in their picks, similar to what they did this year because of the coronavirus. But back then, there was no television. Everything was done on the telephone or you read about it in the newspapers."
Although his career didn't last that long, Ed Smith said he was delighted when his son got involved in the sport and eventually ascended to the highest plateau.
"His mother really didn't want him to play football because of what she saw I went through playing the game," he said. "But I didn't pressure him to do it. He just decided to try it and he got to like it."
As for the formation of the rare father-son combo that played in the league, Ed Smith said it's something that he will always cherish.
"It's not every day that you hear about a father and a son who played professional sports," he said. "We did it, but we didn't have that as one of our main priorities to do. We just embraced the opportunity when it presented itself and it worked out very well for us. I'm happy that he played because he saw the benefits of it by playing much longer than I did."
Alex Smith, who will turn 38 on May 22, said following in his father's footsteps was more than a dream come true.
"When I did it, it had two different significance," he pointed out. "One was just knowing where my father came from and being the first one from the Bahamas to make it. So I understood the importance of that and what it meant to our country and the significant impact that it had on us as a people. So being able to follow in his footsteps was another great significance in itself.
"There are not a lot of father-son combinations in the league, or in professional sports for that matter, so that was another rare significance to be a part of. It was just a special group of people or category to be a part of."
However, he said he never envisioned he would follow his father because his first love was basketball and then track and field.
"My mom tried to keep me away from football. I really didn't start playing football until I went to high school," he said. "Once I started getting some success in high school and getting college offers, that's when I realized that there might be a future in the sport for me. Once I went to college, it became a real possibility for me to reach for."
Having passed through the ranks at the JK Mullen High School in Denver where he was a Super Prep first-team All-American, Prep Star All-Midlands, All-State and All-Centennial League selection, Alex Smith went on to excel at Stanford University where he was a three-year starter and runner-up to the John Mackey award.
Drafted by the Buccaneers in the third round of the 2005 draft, Alex Smith went on to post an 11-year career with 163 receptions, 1,473 receiving yards and 13 receiving touchdowns that included six other teams, including the New England Patriots, Philadelphia Eagles, Cleveland Browns Cincinnati Bengals, New Orleans Saints and the Redskins.
"I saw all aspects of it," said Smith, who went from a starter to a member of the special teams. "I was able to be a part of everything that the sport had to offer."
Now in his fourth year as a Pro Scout for Tampa Bay where he reside with his wife and twin boys, Alex Smith said it's a little more nerve wrecking looking at things from the opposite side of the field from playing to sitting in the administration office. But he's delighted to be a part of the team and trying to build a winning culture.
On the draft, Alex Smith said it certainly had more of a "personal feel" to it and it gave the fans a closer in-depth look at the coaches and managers and their families.
"It was a good change up," he insisted. "We got so used to the same old thing every year. It's good to break it up and give people a different look."
While there were no Bahamians drafted this year, Alex Smith encouraged potential Bahamian football players to first of all concentrate on their grades if they stand any chance of at least getting an opportunity to make the first step to pursuing their dreams in the United States of America.
"You can have all of the athletic abilities in the world, but if your grades are not good for you to get into the universities, you won't be able to get a look," he said. "When people can't see you, it doesn't matter. Whether it's division two or division one, as long as you are on the field and people can find you, you will get a chance. But it starts with the grades. If you don't have it, you can't go anywhere."
Ed Smith said it's a process where potential players get more exposure to the game by playing at the high school level and then going through the collegiate ranks.
"The earlier you can get that exposure to sharpen your game to get to the point where you can excel at the collegiate level, the better for you," he stated. "More and more Bahamians are getting the opportunity to come to the United States so that they can get that exposure.
"Bahamians can excel at any sport that they put their attention too. When I look at what my son did at Tampa, what Devard (Darling) did at Washington State and what Dr Myron Rolle did at Harvard, there are a lot more that play at the pro level like Philip Dorsett and Antonio Brown did after me. They just need the exposure."
Now in Denver, Colorado where he reside, Ed Smith said he's coping with the coronovirus pandemic as best as he could.
And while he's enjoying the stay home order in the warm weather in Tampa, Alex Smith said people have been adhering to the warning from the authorities.
"So listen to your authorities. We are all in this together," he stressed. "When we start to do things on our own and go against the guidelines, that's when we will have some issues. So let's do what we are told."
He also told the Bahamian public that he misses "them" and he can't wait to get back "home" to be with "them" as soon as the pandemic cease.