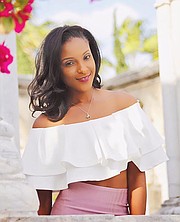 By ALESHA CADET
Tribune Features Reporter
acadet@tribunemedia.net
A new novel by a Bahamian author seeks to inspire young women to always follow their dreams, regardless of the circumstances.
Keithra Deveaux is debuting her book "Island Drama", which focuses on the relationships of three women – a pregnant, unmarried teen, a wife and a divorcee – and is inspired by real life events.
It's written under her pen name, "Anne", and Anne is also the name of the teen protagonist. In the book, Anne's life is suddenly turned upside down when she discovers that she is pregnant. But luckily she encounters two older women who make all the difference and help her on her journey. The three women end up finding comfort in their friendship while they each experience turmoil in their relationships and lives.
"For the most part, 'Island Drama' is based on real events that occurred throughout my life," the author said. "My life experiences prompted me to find a way to empower teenage and young adult women of my generation to believe in themselves and create opportunities to achieve their goals and dreams. 'Island Drama' discusses generational curses, cycles of abuse and the impact being fatherless has on a young girl's idea of love. The characters in the book fight against insurmountable odds, striving to achieve some degree of success in education, career and in love."
Ms Deveaux named the book "Island Drama" because she said it gives an honest account of events young girls typically encounter in the Bahamas and the Caribbean. But she said there also truths within its pages that most women in the Western world will recognise and will be able to relate to.
"This book sheds light on real life situations many are afraid to discuss. This book is based on the lives of so many women; women who have loved and lost, women who have been hurt by the very people who were supposed to protect them, women who live lives of quiet desperation. 'Island Drama' is the tale of so many readers," said Ms Deveaux.
Too many young women, she said, believe they are alone in their struggles and with the issues they face. With "Island Drama" she wants to let them know that this is not the case and that there is strength and love to be found in the bonds of womanhood.
Ms Deveaux, a wife and mother-of-three, said she first really recognised the importance of self-love and the empowerment of women when she competed in the Miss Teen Bahamas pageant in 2008. Before then, she said, she always struggled to believe in herself.
Over the years, she has received numerous awards for her work within the Toastmasters organisation. In 2016, she travelled to represent her club, No 8720, and the Bahamas in the Toastmaster's District 47 International Speech Competition hosted in the United States. Ms Deveaux said she is devoted to providing hope and inspiration by motivating and empowering young women to pursue their passions, find their purpose and fulfil it.