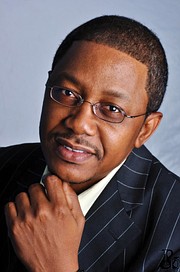 By JEFFARAH GIBSON
Tribune Features Writer
jgibson@tribunemedia.net
The wedding industry has been thrown into chaos. Many brides and grooms are distraught over cancellations and repeated postponements. The weddings that are still happening have been vastly downsized, and wedding vendors have found themselves in an indefinite limbo.
But this is the reality of being in the wedding business during a pandemic when the government has imposed restrictions to allow for only five people to be in attendance at a wedding, including the officiant and the couple.
While brides, grooms and wedding professionals understand the government is doing it's best to keep everyone safe, most agree that is also impossible to host a wedding under these circumstances if certain precautions are taken. If the restrictions remain in place for a longer period of time it could mean the decline of an industry that has been extremely profitable in the Bahamas.
"We are heartbroken by what has become of our lucrative wedding industry," said Tommy Stubbs, executive producer of the hugely successful Bahamas Bridal Show that would have celebrated its 32nd year had the event happened as scheduled.
Mr Stubbs, who is a consultant at Buttons Bridal & Formal Wear, echoes the sentiments of those in the industry who believe many businesses will not survive if there is not a measured approach to how weddings can happen locally.
The average Bahamian wedding is usually a large-scale affair, with many having around 150 to 200 guests. But if the government's past actions are any indication of what is to come, then it may be a long time before we see weddings of this size again.
At the start of the pandemic and lockdowns back in March, weddings and special events of any kind were not permitted. After the decline in local COVID-19 cases, weddings were permitted, but with only 10 people. As the situation showed signs of improvement the number of attendees increased to 30. Unfortunately, COVID-19 cases drastically increased since the reopening of the borders on July 1, forcing the government to implement event stricter measures.
"We are not critical of the government at all. We know they are doing the best that they can do. This is the first time we are all in this position, but we would like for them to just sit and talk with us. No one knows the industry better than we do," said Mr Stubbs.
Mr Stubbs is hoping to present a proposal to the government and to possibly act as a point of contact for couples wishing to still move forward with their wedding but who need help to ensure their event meets health regulations.
"The whole bridal industry feels like yo-yos. Every time we think we have a plan and things can go forward, we have to deal with resetting – resetting our working hours, cancelling weddings. Can you imagine what the brides and grooms are going through? We all are in limbo and uncertain what the future is going to look like immediately and in the long term," said Mr Stubbs.
"So we felt that the government can certainly give us an opportunity as the Bahamas Bridal Show to help work with the brides and grooms and their families on how to conduct their weddings properly with ensuring social distancing, wearing the masks, seating arrangements, rather than not being able to reach anyone for approval. We wanted to offer our assistance to the government as a group capable of coordinating these weddings."
Mr Stubbs and his team have hosted the Bridal Show for almost two decades and he said they have the expertise to manage large-scale events. He believes the government, couples and vendors can strike a balance when it comes to hosting weddings.
"If you can hire a wedding planner, you can hire someone who can handle the safety and health measures that need to be in place so that people can have a proper wedding, one where everyone leaves happy and we ensure social distancing. Keep in mind that the Bahamas Bridal Show has a staff of over 30 ushers and a team of 100 members. Those same persons we use can help with the show and come on board," he said.
"We can assess venues to see if they are appropriate to host weddings of a specific number, help them to seat people based on the relationships, ensure no interaction with other persons unless you are wearing a mask. We can mandate that there are health coordinators present at the event sites. All we are asking is for the government to sit with us and hear us out."
The government's recent last-minute weekend lockdown was a blow to many couples, who found themselves having to call off their wedding at a moment's notice.
Kim Wallace, owner of Template, has been doing the best she can to pivot her business in way to meet the constant changes.
She believes her stationary venture will bounce back, but does not believe others in the sector are as resilient.
"The beginning of 2020 was very exciting for us. The start of peek season is marked by Valentine's Day, which is when many couples get engaged. Also in early March, we were just finalising renovations of our new store. We were excited as we planned to open in September. Then the first lockdown occurred just days before the Bridal Show and lasted until the week before Mother's Day. We lost substantial business from the Bridal Show," she said.
Ms Wallace made the necessary changes to ensure the survival of her business.
"We were able to create a fully operational online store and reopened with curbside service a week before Mother's Day. Since then, we have worked extremely hard to secure five weddings in August, some of which had been postponed from the first lockdown. However, due to the new lockdowns and the restrictions of the size of weddings, the foreseeable future is uncertain. Brides have been reluctant to book their weddings and the number of invitations programmes and favours typically ordered is down dramatically," she said.
"We used a lot of our resources to get back on track and now with this last lockdown we are now in the middle of a financial tailspin. The latest lockdown was awful, as it truly caused our brides real emotional distress. We truly empathise with them and felt their stress. We would love for everyone to stay safe and know that true wealth is health. However, it is extremely disappointing that couples who truly want to share this special occasion with their friends and family and have been looking forward to this day for a very long time cannot do so as they wish."
Ms Wallace agreed that all weddings for the foreseeable future should i a health and safety coordinator.
As for her other recommendation: "Better communication with the public. A bombshell was dropped on couples just hours before their weddings were to take place. These events take a lot of time, money and effort to plan and that was just totally disheartening and devastating," she said.