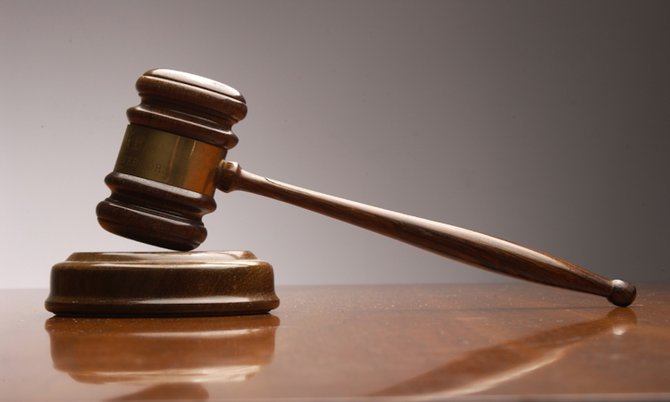 By FARRAH JOHNSON
Tribune Staff Reporter
fjohnson@tribunemedia.net
A MAN who claimed he pleaded guilty to illegal firearm and ammunition possession to "protect his mother," is expected to appear before the chief magistrate for sentencing today.
Craig Delevaux, 30, appeared before Chief Magistrate Joyann Ferguson-Pratt after he was accused of being in possession of an unlicensed silver and black .380 pistol and five unfired rounds of .380 ammunition on August 3.
He was charged alongside Shane Davis Sr, 55; Shane Davis Jr, 24; Ashley Robinson, 27; and his mother Miriam Thompson, 51, who were charged with the same offences.
The court was told officers, acting on information, went to a residence on Alexander Boulevard around 11.20am on the day in question. Upon arrival, they identified themselves and informed the residents of the home they would be conducting a search in reference to dangerous drugs and firearms. The prosecution said during the officers' investigation, they found the illegal firearm and ammunition in a dresser drawer of the northwestern bedroom. Deleveaux was subsequently arrested and taken to a police station, where he denied having knowledge, custody or control of the illegal weapon in an interview with police. Still, the defendant acknowledged he was present when the police searched the residence and found the weapon and ammunition.
During the hearing yesterday, all of the defendants besides Deleveaux denied the allegations brought against them.
Deleveaux on the other hand, pleaded guilty to both charges and agreed to the facts read by the prosecutor. Still, when asked why he chose to do so, he told the magistrate his "mother was all he had" and he didn't want her to have to "go through" the court proceedings.
In response, Magistrate Ferguson-Pratt said she could not accept his guilty plea, because she was not satisfied that his plea was "unequivocal" based on the explanation he provided. She added that while she respected Deleveaux for being "noble" in trying to protect his mother, the criminal law did not operate that way.
As a result, she recorded two not guilty pleas for Delevaux. She then adjourned the hearing to give the prosecution additional time to review the facts of the case. Magistrate Ferguson-Pratt is set to render a verdict on the matter today.
Yesterday, another man appeared before the chief magistrate for a similar offence.
Nathan Rolle, 22, was charged with being in possession of an unlicensed firearm and ammunition after the prosecution said a black and brown .38 revolver along with five .38 ammunition were seized from him on August 4.
During his arraignment, Rolle denied the charges and the matter was adjourned to December 1 for trial.
Bail was denied and the defendant was taken into custody until that time. He has a right to apply to the Supreme Court for bail.