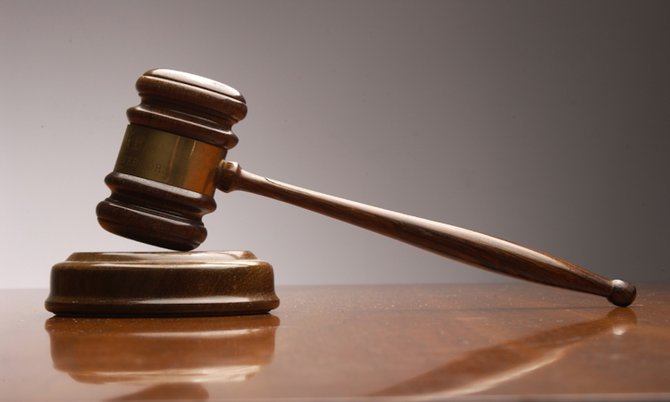 By FARRAH JOHNSON
Tribune Staff Reporter
fjohnson@tribunemedia.net
A 24-year-old man was yesterday sentenced to 15 months in prison after he pleaded guilty to illegal firearm and ammunition possession.
He is the brother of the man who attempted to plead guilty for the same crime to protect his mother on Wednesday. At the time, the family of five were remanded into custody after they denied being in possession of an unlicensed silver and black .380 pistol and five unfired rounds of .380 ammunition on August 3.
When the charges were read again a day later during a hearing before Chief Magistrate Joyann Ferguson-Pratt, Shane Davis Jr admitted to the offences while the rest of his family maintained their not guilty pleas.
Yesterday, the court was told officers, acting on information, proceeded to a residence on Alexander Boulevard to conduct a search. During their investigation, officers found the illegal firearm and ammunition in a dresser drawer in a bedroom. The prosecution said Davis Jr occupied the room where the gun was found, but was not present at the time. He was contacted by phone, but drove past the residence while officers were there. Officers pursued the defendant but were unsuccessful in apprehending him at the time.
Davis Jr turned himself in a short time later. In an interview, he said he got the gun from "one of his boys" who was involved in an "incident" and had dropped the firearm off at his house. He said the rest of his family was not aware the gun was in the home.
During the hearing, Davis Jr was represented by attorney Krystal Smith. She noted her client had turned himself in on the same day and insisted he was "full, frank and forthcoming". She said the incident Davis Jr mentioned during his interview with the police, involved a relative and friend. Mrs Smith said the defendant sought to conceal the weapon to prevent the death of anyone he knew, after he learned about a feud that had taken place.
After listening to the plea in mitigation, Magistrate Ferguson-Pratt asked Davis Jr why he would allow someone to use him as a storage for their garbage. She also noted the defendant bore the brunt of the consequences and his friend was not even present at the hearing. As a result, she sentenced Davis Jr to 15 months behind bars.
She ordered him to pay a $6,000 fine. If he fails to do so, he will spend an additional 12 months in custody.
Meanwhile the charges were dropped against his brother Craig Delevaux, 30, and other relatives Shane Davis Sr, 55; Ashley Robinson, 27; and Miriam Thompson, 51, who were arraigned on Wednesday.