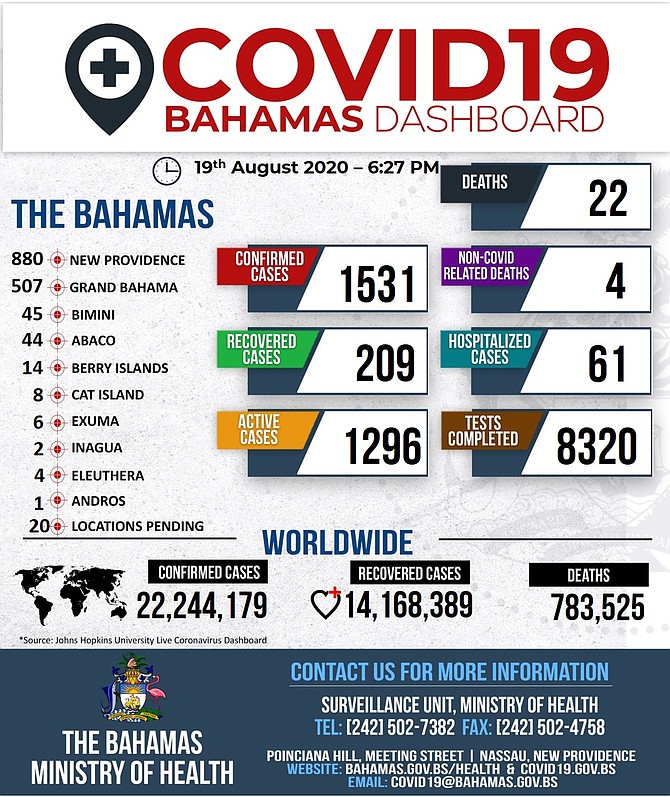 ONE hundred and seven COVID-19 cases were confirmed yesterday and the death total from the virus increased by two for a total of 22.
The latest deaths include a 46-year-old man and a 65-year-old man, both of New Providence. The country now has 1,531 confirmed cases, of which 1,296 are active.
The Ministry of Health also revealed the impact the virus is having on bed space with 61 people now hospitalised in the country, adding that the previous figure on hospitalised cases was inaccurate.
Clarifying hospitalisation numbers, the ministry said: "It is noteworthy to mention that when a person has contracted COVID-19, symptoms may be mild enough for a person to self-isolate at home. However, when symptoms become severe, a person may need a higher level of medical care. (On Tuesday), the 18th August, 2020, edition of the COVID-10 Bahamas dashboard reported there were seventy-eight persons hospitalised. The number of persons actually hospitalised tallied at forty-seven.
"The discrepancy represented a misclassification of persons at the Sandilands Rehabilitation Centre. This institution is generally not designated as an acute care hospital or facility, rather a long term care facility. The first positive COVID-19 person was identified at SRC on 25th July, 2020. Contact tracing and further testing activities have identified additional cases at this institution. Of the positive cases, 20 persons are having symptoms and counted as clinical inpatients 'hospitalised' and are in isolation."
Officials also reported an additional non-COVID related death, bringing the total to three. This category refers to people who had COVID-19 but died from an unrelated disease/incident.
The newly confirmed cases include 59 people on New Providence, 44 on Grand Bahama, one on Exuma and three with locations classified as "pending".
The dashboard information came after the latest Emergency Powers Order was issued, which allows laundromats to open between 6am and 9pm along with grocery stores, pharmacies, gas stations, hardware stores, and water depots or water production companies.
As for laundromats, they must maintain fifty percent occupancy.
Billed as a "storm preparedness" order, the document was released after 5pm yesterday, hours after the previous order had expired.
The order followed Prime Minister Dr Hubert Minnis' reversal of his decision implementing a near complete lockdown of New Providence.
The new curfew is 10pm to 5am daily.
However, only essential workers and businesses are allowed to operate away from home.
People can now leave their homes to obtain water from public standpipes between 6am and 9pm under the order.
Manufacturers can produce goods for food stores or mail boats for inter-island trade from Monday to Friday between 6am and 6pm, "provided that the manufacturer does not open to the general public."
Wholesale grocers or bakers can deliver to food distribution centres, the Department of Corrections, retail grocers or mail boats heading to Family Islands.
Commercial banks, insurance companies, brokers and agents can operate daily between 8am and 5pm while commercial fishing businesses can operate to deliver catch to processing plants.
Weddings remain prohibited. However, funerals that were prearranged to be held between August 18 and August 25 can be held if they are conducted at the graveside and are limited to five people excluding officiants and mortuary workers.