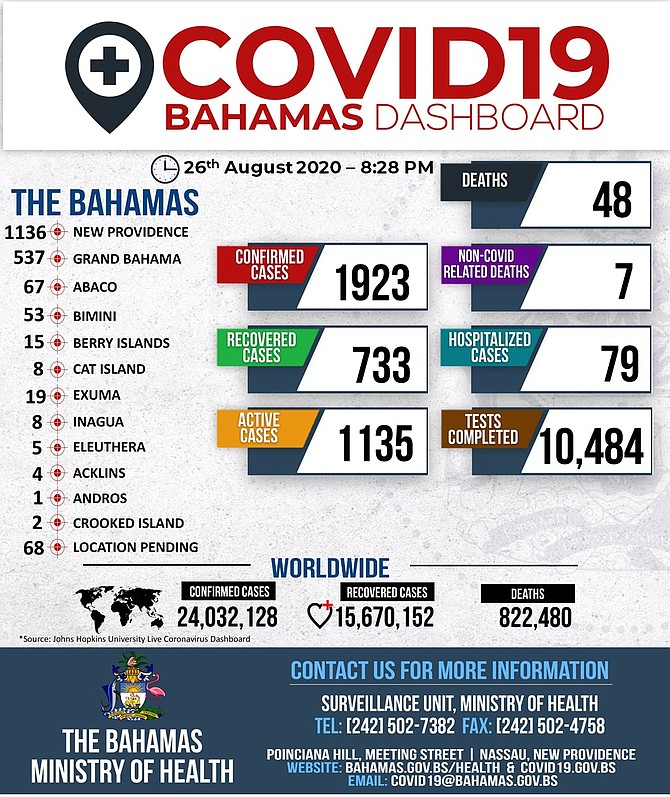 By LEANDRA ROLLE
Tribune Staff Reporter
lrolle@tribunemedia.net
THE Bahamas recorded 110 additional COVID-19 cases on Wednesday, pushing the nation's count up to press time to a staggering 1,923.
Health officials did not release Wednesday's COVID dashboard until early yesterday morning after representatives told reporters the data did not receive approval for release.
Of Wednesday's cases, there were 97 recorded on New Providence, 12 on Grand Bahama and one on Abaco. The location of 68 confirmed cases is still "pending".
An additional non COVID-19 related death was also recorded on Wednesday - bringing the total to seven - as COVID-19 related deaths still stand at 48.
Meanwhile, 79 COVID-19 patients are also still being hospitalised.
The increase of cases on New Providence comes as the island prepares to resume commercial activity after a nearly four week lockdown, which saw most businesses being ordered shut to contain the spread of the infectious disease.
On Monday, Prime Minister Dr Hubert Minnis announced that most businesses in New Providence will be allowed to reopen on August 31, including restaurants, web shops and retail stores but under certain guidelines.
He also said new COVID-19 data suggests no hard lockdown is needed at this time for the island, citing "positive trends".
"But I must say to you, that if the data points to the need for other restrictions in the future to address community spread, such restrictions will be put in place," he said at a press conference on Monday.
"There is still no vaccine for this virus."
Dr Minnis said "the very latest data" led to the decision to lift certain restrictions.
"When we saw the early data on the number of cases here in New Providence, we were certain that there would be a need for additional restrictive measures," he said at the time.
"Over the last 24 hours, our health team and the University of The Bahamas further reviewed the latest data coming in and that new analysis has shifted the recommendation."
This came after Dr Minnis last week announced an immediate seven day near full lockdown for New Providence in response to the COVID-19 crisis.
However, that decision was reversed in less than 24 hours after public outcry.