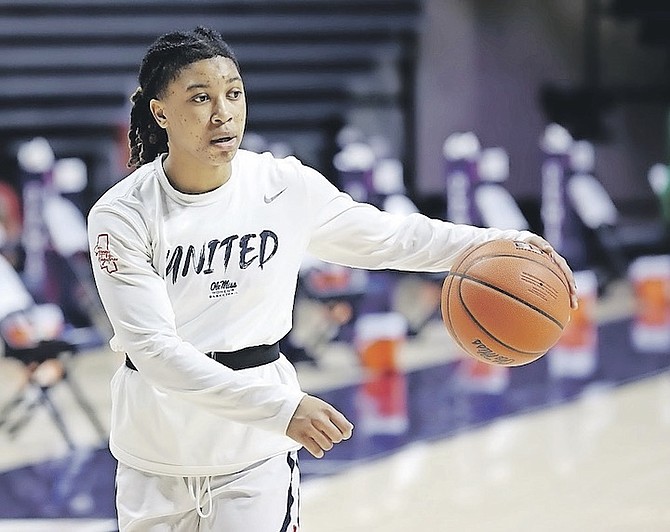 By RENALDO DORSETT
Tribune Sports Reporter
rdorsett@tribunemedia.net
VALERIE Nesbitt scored in double figures for the first time this season and head coach Yolette McPhee-McCuin continues to lead her Ole Miss Rebels to an undefeated record in non-conference play.
Nesbitt finished with a season high 10 points and five assists in the Rebels' 89-65 victory over Jackson State at The Pavilion in Oxford, Mississippi, on Tuesday night.
The Rebels improved to 5-0 and dominated the other speciality categories as well with a 27-11 edge on second chance points and a drastic 42-20 advantage in the paint.
Through four games this season, Nesbitt is averaging 6.3 points, 4.5 assists, 2.3 rebounds and 1.2 steals in 15 minutes per game.
Ole Miss has scored 80 points or more in four of its first five games for the first time since the 2006- 07 Elite Eight season. Despite the early success, McPhee-McCuin said the goal is to continue to build toward cohesive play and a competitive conference schedule in the SEC.
After giving up just 40 points through the first three quarters, the Rebels uncharacteristically gave up 25 points in the fourth quarter to the Tigers.
"Sometimes you have to win ugly so I'm thankful for the win but I thought we could have been so much better and we had moments of letdown so definitely need to improve on that but grateful for the win," McPhee-McCuin said.
"We have to be able to show a level of discipline when we play teams. Defence is what we do so the fact that we let them score 65 points...I don't know how I'm going to sleep because that's not what we're about, so I just need them to be better."
This season, McPhee- McCuin welcomed the No.1 recruiting class in the SEC and No.13 class in the nation. The class was highlighted by five-star signees Madison Scott and Jacorriah Bracey, and the addition of ESPN's No. 1 rated transfer in 2020, Shakira Austin.
"Our group is very young, we're the 10th youngest team in the country so we're going to have moments like this," said McPhee-McCuin. "A part of me wants to give them a whopping but another part of me wants to just talk to them because we have to grow up and we have to grow up quickly because we don't have 13 non-conference games, we have seven or eight, so we have to grow up."
The Rebels will play a game on the road for the first time this season when they face George Mason on December 19.
Following that matchup, Ole Miss completes its non-conference schedule against Jacksonville State before they travel to Colombia, South Carolina to face the No.5 ranked South Carolina Gamecocks.
"I think these games give us the opportunity to get a consistent balance that we can trust in big games," McPhee-McCuin said.
"I'm trying to get players to embrace these moments and focus on what we need to focus on. At the end of this month, we play the No. 5 team in the country. That's how we open SEC play. These games are extremely important for us, and I hope it helps us get the balance we need."