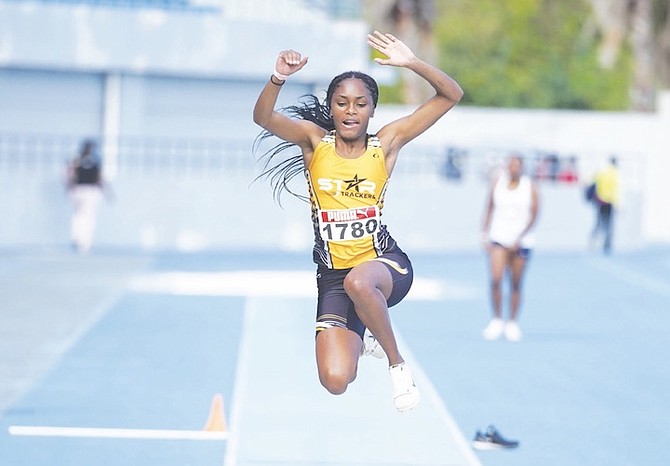 By BRENT STUBBS
Senior Sports Reporter
bstubbs@tribunemedia.net
Under the theme: "Track is Back," the Bahamas Association of Athletic Associations hosted its first track and field meet since the coronavirus pandemic broke out in March.
The BAAA, in closing out what has been a dramatic year of postponements and cancellations of various local and international sporting events, staged the Odd Distance Track and Field Meet at the Thomas A Robinson National Stadium on Saturday.
"We've been planning for the COVID-19 environment since the lockdown and we recognised very early that certain things had to be in place," said BAAA president Drumeco Archer. "We've been in communication with the Competent Authority, giving them the assurance that we could do this and we could do this well."
Archer said the meet on Saturday was proof that they could host a safe and successful meet, so he was very happy with the outcome, considering that the athletes performed at a very high level.
"I think what we know we have to look at is that our competition will have to be in a non-spectator environment and so we will have to absorb all of the expenses," he said.
"At the end of the day, I think we will have to wrap our heads around how we can deliver a safe meet for our athletes in readiness for regional and international competition."
With all indications that the CARIFTA Games might have to be pushed back from the Easter holiday weekend until the summer in Bermuda, Archer said they will have to concentrate on finding more meets for their athletes to sustain their training programme.
Just before the Odd Distance Meet took place, the Blue Chip Athletics Club hosted a Throwers Meet at the original TAR Stadium where seven athletes attained the qualifying standards for CARIFTA.
However, one of the athletes is only 13 years old and is not eligible for the games as athletes must be 15 years or older in order to participate.
There were no qualifying standards for CARIFTA or any other international meets attained at the Odd Distance Meet, but for the most part, most athletes were just delighted to be competing again.
Hurry Murray's Breyana Kemp was one of them. She easily won both the girls' under-17 600 metre race in one minute and 45.40 seconds over 4D Stallions' Aliyah Brown, who did 1:51.69 and Red- Line's Sara Williams, who was third in 1:54.67. Kemp, a 15-year-old 11th grader at St Augustine's College, also captured the 1,000m in 3:21.27 with Ezthia Maycock of Red-Line second in 3:30.01 and Leahja Williamson of Fast Forward third in 3:45.75.
"It's good to be back. We've been out since March. No competition, so competing today was a good thing," Kemp said. "Next year, I want to run my personal best in all my races and qualify for the national teams."
In winning his heat of the boys' under-17 600m in 1:29.09, but placing third overall, T-Bird Flyers' Amando Poitier too was thrilled to be back on the track. "I feel good. I came out here to participate and to do my best," the 16-year-old Doris Johnson Senior High 12th grader said. "I felt very good. It was good to get back on the track."
Tyler Miller of Bahamas Speed Dynamics was the overall winner in 1:27.48, followed by Dion Major of T-Bird in 1:28.82.
While the focus was on the younger athletes, some of the senior and elite athletes also competed.
The open women's long and triple jumps saw collegian Charisma Taylor surge to victory in both events, while placing second in the 150m.
In the triple jump, Taylor, representing Leap of Faith, cleared 12.81m (42-0 1/2) for the victory over team-mate Tamara Myers, who did 12.70m (41-8).
Taylor also captured the long jump with a leap of 5.59m (18-4 1/4) with fellow collegian Andira Ferguson placing second with 5.20m (17-0 3/4) and college bound high school sensation Anthaya Charlton coming in third with 5.20m (17-0 3/4) as well.
"On the whole, I think I did very well," Taylor said. "It's still early. It's December, but I feel I'm in a good position for the season.
"There's still some things I need to work on, but it was a good meet. I still have some things to work on."
In August, Taylor returned to college and was training in preparation for competing at both the NCAA indoor and outdoor nationals, if they are contested, and going on to represent the country at the postponed 2020 Olympic Games in Tokyo, Japan in July, 2021 in the 100m hurdles and the triple jump.
"The hurdles have been going really good. My technique has gotten better, my approach has also gotten better, so I'm just looking forward to seeing how well I can do it at that event," she noted.
Myers, based here at home after graduating from college, said she was trying out a new technique and it turned out to be an indication of where she's at in her training.
"It could have been better, but considering all that has happened, I'm pleased," Myers said. "I'm in good shape, I'm eating healthy, I'm training hard, so I feel awesome. I'm looking forward to the rest of the season."
Myers said she was looking forward to competing at the World Athletics' World Indoor Championships, but that meet has been postponed due to COVID-19.
"We will see if we can get into some meets before the outdoor season," said Myers, whose goal is to make the Olympic team as well. "If not, we will wait outdoors and go for it."
Ferguson, currently at Fresno State in California, said she too was delighted to be home and competing.
"It was good to get my feet wet for the outdoor season," she said. "It was good to see where I'm at. I spotted the few things that I did wrong, so I know what I have to correct."
As for next year, the 22-year-old Ferguson said she is planning to see whatever senior meet she can qualify for, but there's no major priority.
Meanwhile, Charlton, who has already secured an athletic scholarship to attend the University of Kentucky next year, won the open women's 150m in 18.25 with Taylor showing her versatility coming in second in 18.61. Laila Cleare of Fast Forward was third in 18.67.
Home after graduating from the University of Nebraska in 2018 with a bachelor's degree in construction management and now working with his family plumbing/construction company, Kaiwan Culmer said it was good to compete in another Odd Distance Track Meet.
Culmer, competing for Leap Of Faith, won the men's triple jump with 15.26m (50-0 3/4). Keianno Rolle of the University of the Bahamas, was the only other competitor, placing second with 14.15m (46-5 1/4).
"Instead of the full runway, we had to use an approach of 49 feet, which is not much," Culmer said. "My usual approach is 131 feet, so it's a significant amount of steps that I was losing out.
"Other than that , I jumped 15.26 (50-0 3/4), which is pretty good. When I was in school, I did 14.9 (48-10 3/4) with 12 steps and in this meet, I had eight steps so that performance was pretty good."
The goal for Culmer next year is to qualify for the Olympics.
"That's the only thing I'm shooting for," said Culmer, who celebrated his 24th birthday on October 25. "That's the only reason why I'm out here."
Some of the other outstanding performances from the Odd Distance Meet came from some of the younger athletes, including the following:
Daveigh Farrington on Hurry Murray, winner of the girls under-11 80m in 12.10 and Taree Forbs of Boost Athletics won the 150m in 33.49.
Travis Rolle of the Bahamas Speed Dynamics in the under-11 boys 80m in 11.49 and Michael Ford of Spirit of Excellence in the 150m in 22.18.
His team-mate Shekinah Johnson took the girls under-13 80m in 10.59 and she doubled up in the 150m in 19.76, while Darvinique Dean of the 4D Stallions emerged as the champion of the 300m in 43.13.
In the under-13 boys division, Rolinny Labranche of the Star Trackers won the 80m in 10.45 and Tyler Frazier of the Red-Line won both the 150m in 18.32 and the 300m in 40.61.
The girls under-15 division saw Nya Wright of Red-Line clinch the title in the 150m in 19.39; Malynte Clarke of Bahamas Speed Dynamics won the 300m in 42.26; Katia Archer of the Star Trackers took the 600m in 1:50.10 and Kristi Ford of Spirit of Excellence won the 1,000m in 3:28.15.
On the under-15 boys side, Tumani Skinner of Red-Line captured the 150m in 17.29; Philip Gray of DTSP Wolfpack won the 300m in 37.57 and Breck Kemp of Hurry Murray won the 600m in 1:45.71 and the 1,000m in 3:06.97.
D'Angelo Collie of Red- Line won the long jump with 5.37m; Zion Evans of Xtreme Athletic took the shot put with 11.18m; Berkley Findley of Quick Step won the javelin with 11.19m.