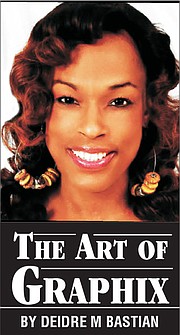 Angelique "Junkanoo Goddess" McKay is a household name not only to Junkanoo and Bahamian culture but throughout the world. I had an opportunity to speak with this young lady, whose energy and passion about the spirit and the art of Junkanoo is fascinating. I learnt so much about this warrior, and her determination to take our birthright to another level. The reward she receives is not only gratifying to her spirit but to the country…yes, The Bahamas that she loves so much. I am grateful to showcase how her artistic essence has carried her around the world as a true ambassador.
Question: How were you dubbed "Junkanoo goddess"?
Answer: A former talk show host, Stanya Davis, dubbed me 'Junkanoo Goddess' a few years ago due to the fact that I had done so many things for the advancement of Junkanoo that have never been done before. She said that 'I needed a title to reflect that I have ,and continue, to pave the way for Junkanoo and Junkanoo artists in areas never before attempted'. Every Junkanooer has a Junkanoo or shack name, and I now have another one that I embrace along with the other Junkanoo names like 'Geliques and Pie'".
Q: What is your definition of being a Bahamian?
A: Being a Bahamian is someone whose lineage spans several generations in The Bahamas, and lives the way of life that we do. By that I mean eating our many dishes, enjoying our music and dancing to the basic things that make us who we are - by embracing our cultural traditions and doing what we can to preserve the natural habits of our country.
Q: Do you think an artist is born or created, and why?
A: I think an artist is born and nurtured. Our creator gave each of us different talents from inception, and it is our duty to embrace it. Notably, artistic abilities in children at an early age are more prominent. Moreover, many people play instruments fluently while some struggle.
Q: How did you get started in Junkanoo?
A: I was born into Junkanoo. Actually my father, Freddy McKay, is one of the founding fathers of The Saxon Superstars from Masons Addition. He was one of the best bellers in their backline. I have always observed his Junkanoo preparations every Christmas throughout my entire childhood and adult life, which was my breakthrough.
Q: What do you feel can enhance the spirit or tradition of Junkanoo?
A: It is my belief that an expansion of our Junkanoo season would be a big boost to the overall spirit of junkanoo.
Q: Who has been your role model in Junkanoo?
A: My father, Freddy McKay. His passion, commitment and love for Junkanoo has fueled my love for Junkanoo over the years.
Q: How have you contributed to the overall success of Junkanoo?
A: I have participated in Junkanoo parades, taking costumes to Bay Street for both parades - Boxing Day and New Year's Day - each time. While I am always happy to design and construct my very own costume, I am also the proud founder of the Junkanoo Commandos organisation, who are proudly the "only" Junkanoo organisation that has ever won a Cacique Award in the Bahamas.
The Junkanoo Commandos have also travelled to more than 35 cities around the world, showcasing the creative arts of Junkanoo through performances, workshops and presentations. Furthermore, I was also the founder of the first Junkanoo festival in the country, which was designed to showcase and sell Junkanoo costumes, and allow Junkanoo artists to monetise their art.
Q: How important is creativity?
A: Creativity is very important to Junkanoo, as it offers the opportunity to bring characters to life via costumes and performance. A personal stamp is placed on every aspect of Junkanoo and, most importantly, the collaborative creativity connects the entire production.
Q: How tedious is the creation of costumes?
A: Oh my goodness. A labour of love best describes the process. It is a tedious process from conception to performance on Bay Street. Actually, some costumes require a six-month period or more despite the help of a massive production team. However, it is worth the time invested.
Q: What are you working on presently?
A: Well, because there is no Junkanoo this year, my Junkanoo Commandos team, the project management team of Cultural Experience Productions, and myself are working on a virtual Junkanoo experience with some of our partners in the United Kingdom and West Africa. We seek to highlight a virtual Boxing Day Junkanoo to introduce new projects and collaborations. This production is call 'Junk-A-New' and will allow for a larger audience experience.
Q: How important is exposure?
A: Exposure is very important to the body of Junkanoo and its artists. They are no doubt the best kept secret globally. Ultimately, the Junkanoo Commandos team has been working tirelessly over the years to expose Junkanoo globally. The team visited more than 35 cities around the world, as far afield as Italy and as close as Cordeal Georgia in the United States. They intend to visit more cities as soon as it is safe to travel.
Q: What is your view on the Bahamas Junkanoo ratings?
A: I don't think it's a good rating simply because we lack Junkanoo experiences throughout the year, particularly since The Bahamas is the only Junkanoo destination on this level.
Q: What has been your greatest highlight in Junkanoo?
A: I actually have two highlights: One been the Junkanoo Commandos performance at the 50th anniversary of the Dr Martin Luther King Jnr 'I have a dream speech', Let Freedom Ring. I was actually the project manager for this historic event where they performed on the steps of the Lincoln Memorial. This performance was viewed and live streamed globally from media houses, and I felt so proud as a project manager and Junkanoo Commando team member.
However, overall my greatest highlight was when my son, Zyon, lined up alongside me at Junkanoo on Bay Street for the first time in his costume attire and performed. I do still feel emotional when I think about it.
Q: What has been your most disappointing or saddest moments in Junkanoo?
A: One of the most disappointing Junkanoo experiences is the short amount of time allotted to perform despite waiting all year to get to Bay Street. I recommend that A and B Category groups perform on different days, which may offer more time to perform.
Q: What would your advice to a newcomer be?
A: Choose a group with people you are comfortable with, line up and let's go to Bay! Remember, Junkanoo is the greatest show on earth.
Until we meet again, fill your life with memories rather than regrets. Enjoy life and stay on top of your game.
NB: Columnist welcomes feedback at deedee21bastian@gmail.com
ABOUT COLUMNIST: Deidre M Bastian is a professionally-trained graphic designer/brand marketing analyst, author and certified life coach with qualifications of M.Sc., B.Sc., A.Sc. She has trained at institutions such as: Miami Lakes Technical Centre, Success Training College, College of The Bahamas, Nova Southeastern University, Learning Tree International, Langevine International and Synergy Bahamas.