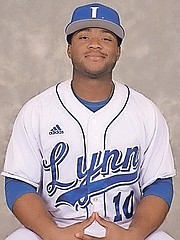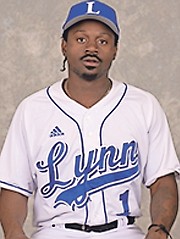 By RENALDO DORSETT
Tribune Sports Reporter
rdorsett@tribunemedia.net
Following a short stint in the minor leagues, a pair of Bahamian players are getting their opportunity at collegiate baseball with the Lynn University Fighting Knights.
Byron Murray and Kyle Simmons have helped Lynn to a 2-0-1 record early in Sunshine State Conference play of NCAA Division II.
Murray, a former member of the San Francisco Giants organisation, was a major factor in the scoring outburst for the Fighting Knights in their 16-13 win over Tusculum on Sunday.
He hit a grand slam and finished the day with four RBI and two walks.
He also went 1-3 with one RBI and scored one run in the Lynn's 11-11 tie against North Greenville. The game was called due to darkness after seven innings.
As a freshman last season, Murray appeared in 18 games, batted .284 with six doubles, one triple, three home runs and 11 RBI. He also posted a .383 on-base and .537 slugging percentage, third-best on Lynn's roster.
Murray, was selected by the Giants in the 2014 draft in the 25th round with the 748th pick.
A versatile right-handed power hitter at 5'10" and 195 pounds, he was drafted as an outfielder but has spent much of his time at third base.
As a rookie in August 2014, he was assigned to the Arizona League Giants and in 19 games, he hit .279 with 12 RBI, five doubles, two triples and a .758 OPS.
The following September, he was assigned to the Volcanoes for the first time and spent six games with the club.
His combined totals in 2015 across the Northwest League and Rookie League (53 games total) included an average .251 with 28 RBI, three home runs, nine stolen bases and a .723 OPS.
He was called up to Class A Advanced with the San Jose Giants, but his 2016 season was cut short due to injury and he was sent back to the AZL on a rehab assignment, where he appeared in just four games.
He was called up to the Salem-Keizer Volcanoes in the Class A Short Season in 2017, his last appearance in the minors.
Out of Trinity Christian in Lake Worth, Florida, Murray was a 2014 Florida All-Region and was an Underclass High Honourable Mention in both 2013 and 2012.
A former member of the Pittsburgh Pirates organisation, Simmons spent last season as a redshirt. He has yet to make his mark on the stat sheet for the Fighting Knights but has appeared defensively at third base.
Simmons spent three seasons with the Pirates in the Dominican Summer League where he appeared in 101 games from 2015-17. In 2018, he spent just four games in the Gulf Coast Rookie League before he was released in June 2018.
For his minor league career, Simmons hit .185 with 53 hits, six doubles, one triple, 19 RBI, scored 50 runs, 19 stolen bases with a .601 OBP and .388 OPS Simmons signed as an international prospect with the Pittsburgh Pirates organisation and begin his professional career in July 2015.
As an international signee, he has taken advantage of the opportunity to retain his NCAA eligibility and play collegiately.
Both players spent last summer on the roster for the Wisconsin Woodchucks of the Northwoods League.
The Northwoods League is a collegiate summer baseball league comprising teams of the top college players from North America. All players in the league must have NCAA eligibility remaining in order to participate. Established in 1994, the Northwoods League was the first for-profit summer collegiate baseball league.
Both were also members of the group of nine Bahamian players to compete as a member of team Great Britain at the World Baseball Classic Qualifier in 2016.
Photos: Byron Murray #10, Kyle Simmons #1