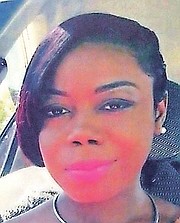 By BRENT STUBBS
Senior Sports Reporter
bstubbs@tribunemedia.net
HUNDREDS turned out to pay their last respects to the late Jonique Elizabeth Webb.
Although she was not one of the countries more prolific athletes, Webb had a promising career that was cut short after she was diagnosed two years ago with lupus.
But despite her ailment, Webb was never one to give up. She fought to the end of her demise on January 19 at the age of 30, just around the time she was scheduled to go to the United States for a kidney transplant.
Webb was named the most outstanding student-athlete of Jordan Prince Williams High School's graduating class of 2006, having participated in just about every sport the Falcons competed in.
She excelled particularly in basketball under coach Terrance 'Red Eye' McSweeney. She carried that enthusiasm over to the Baptist Sports Council where she excelled for Golden Gates, especially in their head-to-head clashes with Macedonia Baptist Church.
When she was competing on Golden Gates' teams, managed by her grandmother Deacon Joanne Webb and coached by Joyce Minus, she devoted her time as an executive of the BSC, headed by Brent Stubbs.
While Webb was keen on ensuring that Golden Gates prevailed in every competition they competed in, she was just enthusiastic in performing her duties with Stubbs, Mother Webb, Joyce Minus, Olympia Evans, Nicola Major and Kendal Rolle as an executive of the BSC.
Despite the fact that she as more focused on her health, a week before she passed away, during a conversation with Mother Webb about resuming the activities of the BSC, Webb was asked if she's ready to work and she simply stated: "Whenever you are ready."
That was the sentiments echoed by speaker after speaker as they spoke at either the memorial of the homegoing funeral service for Webb, who wrote her personal mantra.
The eulogy at the funeral service was done by Rev. Alonzo Hinsey Jr, who made Webb the youngest treasurer of Golden Gates Native Baptist Church where she served faithfully as a member of the Youth Department.
He also noted that once refurbished, the Youth Chapel at their church will be named in memory of Webb.
Christine Rolle, the Executive Director of Securities Commission (Bahamas), recalled Webb's academic pursuits while working on the job. She was committed to earning her CPA, but continued to climb up the corporate ladder of success.
And Ida Poitier-Turnquest, president of the Alpha Kappa Alpha Sorority Inc., said they were delighted when Webb pledged to become a member. She was just as effective as she was in her other obligations.
Valeska Thompson, her best friend, said she still couldn't fathom how Webb devoted so much time to all of her activities on a daily basis, despite all that was going on. She said Webb made the best of life and enjoyed every moment of it.
Clifford 'Butch Scavalla, former Commodore of the Royal Bahamas Defense Force, praised Webb's father John Webb, a member of the RBDF, who was identified as the donor of a kidney during the transplant surgery.
And the Rev. Dr. Sabrina Pinder, president of the Bahamas Baptist Women's Convention, saluted Mother Webb, who took up the responsibility of rearing Webb along with her mother, Linda and father, John.
Rev. Lennard Miller, who presided over the service, said Webb was considered a daughter, whom he helped to mentor as both a leader and a speaker.
During both the memorial service on Thursday and her funeral service on Saturday at Golden Gates Native Baptist Church, those who knew her described Webb as a woman of purpose, one who "got up, dressed up, showed up a d never gave up."
At the memorial service, Prophet Stephen Munroe of Believers Embassy International talked about his brief relationship with Webb, whom he told the audience was going to get outfitted with a new kidney, not knowing that it would have come in the form of a new body.
Tributes were also delivered by Evangelist Kim Saunders, Youth Director of St John's Particular Church of Native Baptist; Minister Sarah Smith, Director of the Young Women's Department of the Bahamas National Baptist Missionary and Educational Convention and Minister Samatha Cartwright, Youth Director of the BNBMEC.
Levant Miller and Evangelist Tia Rolle, both of the Golden Gates Native Baptist Church Youth Ministry and classmates Randeria Wilcombe and Dominic Stubbs of the Jordan Prince Williams High School's Class of 2006, all gave fitting tributes of the life and time of Webb.
Along with the moderator, the Rev. Dino Cartwright, who served as the National Baptist Youth Department, all talked about Webb's commitment and dedication to whatever she put her hands to do.
Webb left behind her parents, grandmother, brothers and sisters and a host of other relatives, including the Rev. Dr. Ian Webb, a former outstanding baseball and softball player.
May her soul rest in peace.