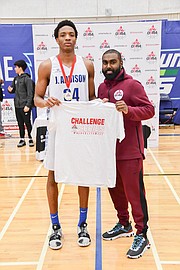 By RENALDO DORSETT
Tribune Sports Reporter
rsorsett@tribunemedia.net
PAUL Greene led his J Addison Prep basketball programme to another in-season tournament title in the Ontario Scholastic Basketball Association.
J Addison won the 2020 OSBA Challenge Series championship when they defeated M Catholic Prep at George Brown College in Toronto, Canada.
The Challenge Series is open to Ontario, non-OSBA and out-of-province schools.
According to the OSBA, the Challenge Series was created in "an effort to expand the opportunities available for elite youth basketball players in Ontario and further competition for prep and high school basketball programmes, the OSBA has announced two new avenues for prep and traditional high school participation for both male and female players."
The OBSA hosted four sessions of the Challenge Series and J Addison appeared in two with a record of 3-1.
Greene has been a leader for J Addison Prep this season since his transition from the St George's Jaguars. In the first year of the school's basketball programme, Greene won an early season MVP at the Pinky Lewis Invitational. He averaged 21 points, 13 rebounds and five assists over the course of the event.
Also in the OSBA regular season play, Romad Dean is currently the league leading rebounder and averages a double double for Crestwood Prep. Dean finished with 25 points and 19 rebounds in his team's most recent outing - a 95-89 win over Father Henry Carr Catholic. Also in his first year at Crestwood, Dean is averaging a league leading 13.2 rebounds and 13 points per game.
Both players were previously nominated for the country's premier prep basketball showcase. They were two of 198 players named BioSteel All Canadian Games - 2020 Boys Nominees List. The Nominees List contains all the players selected to the ballot by the Boys Selection Committee. Multiple rounds of voting will narrow this list down to the Top 24 All Canadian selections.
According to the organisation, "the All Canadian Basketball Games feature the top 24 male and female Canadian high school basketball players who are either Canadian-born or enrolled in a Canadian institution.
The top 24 athletes come to Toronto to work with Canadian coaches and trainers in a series of events, including on-and-off court training, practices and scrimmages in front of NBA scouts and GMs, community outreach, the Nike Skills Challenge, and the Boys and Girls All Canadian Games."
The BioSteel All Canadian Games is an NBA sanctioned event, drawing representation from over 90 per cent of NBA teams.
Current Ole Miss freshman, Sammy Hunter, was the first Bahamian selected as a BioSteel All-Canadian.