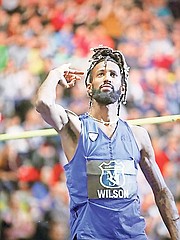 By BRENT STUBBS
Senior Sports Reporter
bstubbs@tribunemedia.net
COACH Ronald Cartwright feels that based on their offseason training, high jumper Jamal Wilson is on track for turning in a credible performance this year.
In his first international meet in Banska Bystrica, Slovakia, on Tuesday, Wilson soared to a second-place finish with his lifetime achievement of 2.33 metres or 7-feet, 7 3/4-inches, which also matched the qualifying standard for the 2020 Olympic Games in Tokyo, Japan.
Cuba's Luis Enrique Zayas took the title with the same height, but on fewer knockdowns on the countback. Both are now tied with American Darryl Sullivan and Great Britain's Tom Gale with the world-leading height.
Fellow Bahamian Donald Thomas also participated in the event, but he had to settle for a three-way tie for 9th place with Silvano Chesani from Italy and Matthew Sawe from Kenya with 2.20m (7-2 1/2).
"It was good. Obviously from the results, it's good to get the Olympic qualifying out of the way," said Wilson, who had to go to his second attempt to clear the mark after Zayas did it on his first.
"I don't want to dwell on the performance too long because there's still a long way to go. I just want to get back into training and prepare myself for the outdoor season."
Wilson, 31, said he was delighted to surpass his previous indoor best of 2.31m (7-7) and outdoors of 2.30m (7-6 1/2), thanks largely in part to the competition he got from Zayas, the Pan American champion, who improved on three centimetres of his previous personal best with the victory.
"I hope to be back in action around April when I hope to be targeting a few more meets in Europe before I head to the Olympics in July," Wilson said. "I don't have to chase mark anymore. I can now chase qualify in my performances and not worry about competing more."
In thanking the Bahamian people for all of the love and support that he's received so far, Wilson assured them that if they keep watching and listening, there will be much more to come from him this year.
"The true goal is the Olympic Games," he stated. "That is what my eyes are on right now."
Cartwright, who spent some time working with Wilson during the Christmas holiday at the Thomas A. Robinson Track and Field Stadium, said he was quite thrilled by the performance.
"I knew he had a big jump in him," Cartwright said. "He went out there and performed as expected. I am pleased with the way he performed, but I'm looking for a lot more from him."
The veteran coach said he expects that Wilson will get to compete in a local meet just to polish up a few things before he heads back to Europe and prepares for the trek to Tokyo.
"From what I saw from the competition, he looks very good," Cartwright stressed. "I like what I saw and because of the way he performed, I know there is a lot more he can do. He's going to have a very good season this year."