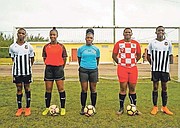 THE Ministry of Education, Science and Technology's Student-Athlete Resources and Support (STARS) programme will continue its mission of creating opportunities for local student athletes to showcase their skills on the soccer pitch.
The second annual STARS College Soccer Showcase is scheduled to be hosted February 20-22 by the Ministry of Education and the Bahamas Football Association. The event showcases local student athletes, both boys and girls, to coaches of US and Canadian college programmes.
Students can register now on scholarshipsBahamas.com/soccer
In addition to showcasing their athletic talents, all participants will engage in a student-athlete informational session where they will be educated about the process of becoming a college student-athlete.
Students, parents and local coaches will also have the opportunity to network with the college coaches following the information session.
The showcase is open to student athletes through the 9th-12th grade and also to recent graduates.
The event is open to all collegiate soccer coaches and will be attended by the soccer coaches of the Ministry of Education's partnering colleges and universities from the Bahamas, USA and Canada.
This year's event will host over 40 scouts and coaches, 15 of which will be in attendance while others will monitor the event virtually online.
At the inaugural event, six students received over $200,000 worth of scholarships.
Event schedule
Thursday, February 20 - Women Symposium with Karina LeBlanc CONCACAF 6:30pm at Breeze's Resort
Friday, February 21 - Student/Parent Info Session; Coaches Meet and Greet/ Welcome Reception 6:00pm Breeze's Resort
Saturday, February 22 - Soccer Showcase Training, Scouting and Evaluation by College Coaches. Girls Morning Session 8:00am -2:00pm and Boys Soccer Showcase 3:00pm -9:00pm
Registration costs per student is $30.
The STARS programme aims to provide Bahamian high school student-athletes with the tools they need to extend their educational and athletic experience beyond high school, to the collegiate level and beyond while empowering them to become strong leaders in and out of the classroom and on and off the playing field, and helping them successfully integrate into society as responsible citizens.
"In 2019, 14 high school student-athletes from our programme that participated in various sporting genres from schools throughout Nassau and Grand Bahama, were recipients of a combination of athletic, academic, and Ministry of Education awards," said Jurelle Mullings, the chairperson of the programme.
Mullings noted that these students now serve as mentors of the STARS programme and are excelling both in the classroom and on the playing field, averaging a cumulative GPA of 3.54.
"Notably, all six of our college soccer student-athletes attended the Ministry's first annual STARS College Soccer Showcase in February 2019 and were beneficiaries of athletic scholarships as a result," she stated.