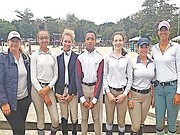 EQUESTRIAN Bahamas is all set to record another historic milestone in Bahamian sport when it fields its first team to an international event this weekend.
Peyton Wong, Elle O'Brien, Mila Sands, Maya Tilberg and Nicholas Astwood are expected to compete in the inaugural Interscholastic Equestrian Association (IEA) International Invitational, scheduled to be hosted this Saturday, February 15 in Conyers, Georgia.
The team will be coached by Kimberley Johnson with Erika Adderley-Coello as the trainer.
The group is an upper school team that will compete in both fences and flat classes. The International Invitational will be held in conjunction with the IEA Zone 4/Region 1 finals at the Georgia International Horse Park.
The team was selected based on their performances at the IEA along with Bahamas Interschool Equestrian League (BIEL) Hunt Seat Invitational and Selection Trials hosted last December.