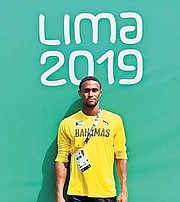 By BRENT STUBBS
Senior Sports Reporter
bstubbs@tribunemedia.net
AFTER his upsetting win over the top-seeded player, Justin Roberts continues to make his presence felt at the Cancun Tennis Academy in Cancun, Mexico.
Playing in his second tournament for the year, Roberts pulled off a 6-3, 7-6 (4) over Juan Alejandro Hernandez Serrano from Mexico in the round of 16 yesterday.
"Today was good. I didn't play my best tennis. It was tough. It was windy, but I managed to get through," Roberts said. "It was a battle in the second set, but I managed to get through it."
The win came after Roberts stunned American Alexander Sarkissian - the top seed - 6-4, 6-2 in the round of 32 on Wednesday.
"I feel good about beating the number one seed in the first round. He's a good player. It was a very clean match," said Roberts about his match-up against Sarkissian. "Today, it was not so clean. It was a bit windy, but I managed to pull through. So I feel good about where my game is right now."
It's a much better showing than last week when Roberts got ousted in the last round of the qualifications in a 10-point tiebreaker in the third set in his first of three tournaments in Mexico.
"I think I still I'm not playing my best tennis yet. This is just the second tournament for the year," he pointed out. "I am still trying to find my game, so it's good to get these matches in so I try to get things going."
Roberts, 23, is expected to be back in action today.
Following this week's tournament, Roberts will play in his third straight tournament in Mexico. He will then he to Las Vegas for his first tournament in the United States of America at the beginning of March and will play two more tournaments in California at the end of the month.
Coming off a great ending to 2019, Roberts won titles both in doubles and singles as a graduate student playing for the Arizona State Sun Devils under coach Matt Hill, whom he reunited with after they both transferred from the University of South Florida.
With the highest ranking of any local player at number 825 in singles and 1013 in doubles, the six-feet Roberts was automatically named by the Bahamas Lawn Tennis Association to compete on the Bahamas 2020 Davis Cup team.
Roberts is expected to join Kevin Major Jr and Baker Newman on the team. Major Jr and Newman earned their berths as finalists at the BLTA's Giorgio Baldacci Open in December at the National Tennis Center. Roberts was given an exemption from participating in the tournament because of his ranking.
The BLTA is expected to name the fourth and final player following a final trial before the team play at a date and venue yet to be determined.