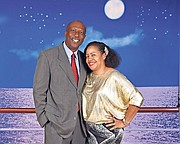 By ALESHA CADET
Tribune Features Reporter
acadet@tribunemedia.net
Paul and Denise Worrell's journey towards all things natural started right in their kitchen. After starting their own family, the couple decided to go back to their roots when it came to putting food on the table for their kids.
"We try to remain true to our history as we engage in conversation with our older community to use and record the foods, beverages and processes which were so much a part of our diet and medicinal cultural heritage. After we married, we brought up our families in a similar way," said Denise.
This process of going back to what people grow in their yards and what grows naturally here in the islands also forms the basis of the couple's company, Naturally Bahamian.
"While homeschooling our children, in order to avoid becoming a helicopter mom, I spent time in the kitchen preparing meals from our gardens and using Bahamian approaches to our meals. Our gifts to friends and families were made in our kitchen. As they told their friends, we began getting orders. After that, more invitations and orders followed and we increased our offerings and flavours."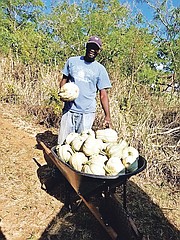 The Worrells currently offer their customers herbal teas, gluten-free flour, beverages in Bahamian fruit flavours, jams, jellies, pastries and sweets. They also go beyond what you put in your body to what you put on your body, including natural body care products such as soaps, creams, lotions and salt scrubs.
"We are especially pleased with the comments of clients who have used our teas and other products as they have been traditionally used in our culture to combat various ailments with great success. Clients tell us that their blood pressure has improved using these natural medicines," said Denise.
To educate those around them about the benefits of going natural, the couple offer health coaching, cater tea parties, and give demonstrations. Residents and visitors to Eleuthera can also experience total immersion into Bahamian culture and farming at the couple's Governor's Harbour property.
"Our health coaching underlines that one size does not fit all. We work with clients to get the best results available naturally, but encourage them to get regular medical check-ups," said Denise.
As more and more people become interested in living natural and purchasing home-grown, Bahamian-made products, the Worrells see their approach to both business and life catching on and growing in popularity in the future.
"The market is there, both locally and internationally. It is simply up to our team to grow it. We have learned that it is important to partner with those that have similar values, both personal and with regard to commerce. Values such as honesty, integrity, hard work, a focus on quality and a healthy approach to risk and innovation are all qualities that we look for in partners," she said.