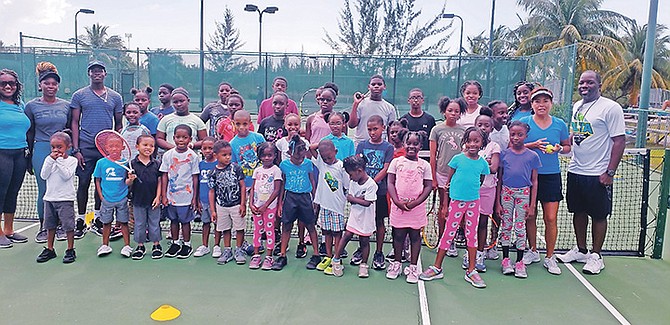 THE Bahamas Lawn Tennis Association (BLTA) continued with its developmental "Play Tennis" programme aimed at beginners between the ages of five and 17.
Over the weekend appoximately 40 kids were on hand to benefit from this free programme hosted at the National Tennis Centre. The coaches and assistants who volunteered their time and energy this week were Marion Bain, Rita Roy, Donte Armbrister, Esther Newton, Carla Taylor and Nicholas Russell. The sessions are organised by the head of junior development, Perry Newton.
There continues to be a growing number of young persons eager and open to the sport of tennis. The BLTA's focus on these starter players provides the foundation for development and growth. Basic tactics and techniques are taught 10:30am every Saturday at the NTC.
The programme is offered for free and registration is $1. This removes the pricing barrier for new players. All sporting equipment is provided by the association. The kids only need to wear tennis shoes, bring a bottle of water and come prepared to learn tennis and have some fun.