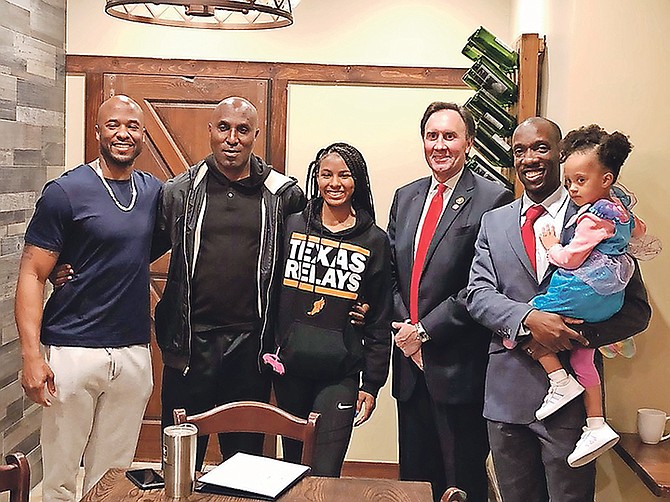 By RENALDO DORSETT
Tribune Sports Reporter
rdorsett@tribunemedia.net
THE Bahamas' first track and field Olympic medallist continues to be recognised both for his historic accomplishment in athletics and youth development.
Frank Rutherford was presented with a certificate of congressional recognition by Peter Olson (R), the representative for Texas's 22nd congressional district since 2009.
The district includes much of southern Houston, as well as most of the city's southwestern suburbs such as Katy, Pearland, and Sugar Land.
Calling the Bahamian triple jumper "an inspiration to aspiring Olympians everywhere," Olson said Rutherford deserved recognition for his dedicated work supporting the development of the district's student-athletes.
Today, Rutherford concentrates his efforts on his Elite Development Programme, which continues to prepare young Bahamian students with an opportunity to further their education through sports in the United States.
The programme, based in Houston, Texas, features a star-studded list of alumni including Devard Darling, Michael Carey, Waltiea Rolle, Mavin Saunders, Alex Cooper, Mikhail McLean and many others.
As recently as last spring, Rutherford financed the 10-day visit of the Government High School basketball team to Houston over the Easter break. The team participated in basketball training, visited Rutherford's alma mater, the University of Houston, went to a Houston Rockets game and played in the Spring Classic AAU tournament.
They also had meet and greet opportunities with NBA Hall of Famer Hakeem Olajuwon, and former Rockets player Clint Capela. They toured the athletic facilities and the newly renovated Fertitta Centre basketball arena where the Cougars play.
On August 3 1992, Rutherford captured the Bahamas' first Olympic track and field medal, a bronze in the triple jump at the Barcelona games. Rutherford jumped 17.36m to finish third behind Americans Mike Conley (18.17m) and Charles Simpkins (17.60m).
Since his milestone accomplishment, the Bahamas has medalled in every edition of the summer Olympic Games.
His effort changed the way the Bahamian fanbase viewed excellence in sport and particularly at the Olympics, to a point where a position on the medal podium is expected from a small country of just over 300,000.
"I see myself as one of those tools that God put in a country to help it evolve into being a world-class country. I think what I demonstrated in terms of the hard work, sacrifice and challenging the system to bring a higher level standard of preparation for our athletes to reach that level was instrumental.
"It would not have been possible without the vision and support of our forefathers and Sir Lynden Pindling whose mandate was for me to show that Bahamians could go on the world stage and excel in all areas of life, mine just happened to be sport," Rutherford said in a previous interview celebrating the anniversary of his accomplishment.
"Even today my image suffers because of the steps I made because of the ultimate confidence to win and succeed at the highest level, but you can't deny the impact that moment in 1992 has had on track and field and on the country at large."