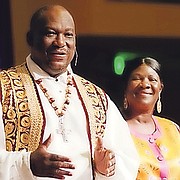 By JEFFARAH GIBSON
Tribune Features Writer
jgibson@tribunemedia.net
With every turn, twirl and movement they make this Friday, a group of young dancers will pay tribute to and tell the stories of those who have suffered abuse in their lives.
This Dance For A Cause United event is being presented by the World Dance Council Bahamas, an organisation that tackles incest, child molestation, sexual abuse and rape through the creative arts. It will take place at the George Brown Park, Dumping Ground Centre, at 7.30pm. School, churches and community dance groups will be performing, and victims of sexual violence will be on hand to share their stories and raise awareness.
President of the council, Dr Ann Higgins, said the event aims to shine a light on issues that are often still considered taboo.
"We choose songs that relate to abuse, abortion, incest and rape. There will songs selected that depict the feeling of when a child has been abused. The dancers take these songs, mime, dramatise and depict stories of persons that have told their stories. It expresses what happened to some of these (victims)," she said.
Additionally, there will be testimonies from survivors addressing their experiences with abuse.
One participant who will be sharing her story is Dr Samantha Evans, author of "Don't Touch Me There".
The book talks about when she was raped by her grandfather when she was just eight years old, and how her grandmother knew about the abuse. Dr Evans grew up bullying other people because of what happened to her; acting out her pain.
Volunteers from the Crisis Centre, authors and mentors will also be on hand. Clothes and food will be given away to those in need.
"We do this because we know there are a lot people in the area that have a need, especially young people. Some of them do things for money and to get a couple of dollars. We are aware of this and aware of their needs and we want to provide for it," said Dr Higgins.
A pioneer of liturgical dance in the Bahamas, Dr Higgins, together with her husband, Pastor Henry Higgins, runs a community centre to cater to youths. She was inspired to establish this civic venture by her own experiences with feeling lost and abandoned in her younger years.
"When you have gone through certain things as a child and felt as though 'Will anyone ever listen to me' or 'Does anyone really understand what I am dealing with', you tend to understand," she said.
"My mother and father separated when I was 15 years old. The daddy that I had been looking for that was never there, so I found him in relationships with men who would take care of me and treat me like daddy's girl and give me the little things I wanted. And all of that led to a whole lot of promiscuity. I ended up a lead topless dancer in a casino at very young. So my lifestyle of drugs and alcoholism all came from that spirit of rejection. All the things I experienced as a little girl affected me, even into my adult life. I gave my life to Christ and that was when I really understood who I am through Christ. Through Him I realised I am fearfully and wonderfully made.
Dr Higgins said her husband also dealt with rejection in his childhood, but today he is a father figure and mentor to the numerous young people who come through the doors of the community centre, which she describes as a place where lives can be restored; where they can reach youngsters through the arts.
Through the centre's programmes, young people can develop their skills and are given opportunities to showcase their talents.
"The community centre has after-school programmes that keep the young kids busy, homework assistance, a Junkanoo art and craft workshop. And we developed the Conquerors for Christ Junkanoo group that has about 150 young people," said Dr Higgins
"The community centre creates an opportunity for them to be in a safe place. We also have Bible study and service for them on Sundays, dance classes on Tuesday, then we have our youth group on Fridays at 5pm. Every day we have activities to keep our young people busy, to keep them at arms length from adults that prey on them. We also have adult mentorship programmes where we teach mentors how to interact with young people."
But most of all, the community centre is a place where young people can feel safe and get the guidance they need.
"They see us as parents, the mother and father that were never there for them. We have been there. We know what it is like not to have. Children are walking around and being molested on a daily basis and they don't know who to tell. They cry and break down to us about how nobody wants to believe them. Some said they had been holding things in for years and never knew that if they should tell someone," said Dr Higgins.
"So we do our best to protect them. We say to them, 'You are going to be with us. You are going to do your homework. You are going to be dancing, you are going to be singing. This is what we do and we tell them do not be afraid. We are here to protect you."