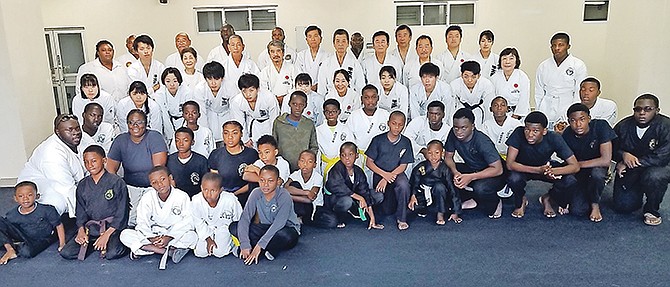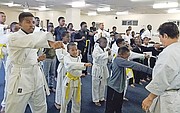 By BRENT STUBBS
Senior Sports Reporter
bstubbs@tribunemedia.net
IN an effort to promote the sport of karate and increase the performances of the local karate, sensei Msrus Rolle hosted a World Karate Martial Arts Organisation clinic at the Thomas A Robinson National Stadium on Monday.
Chief instructor Yasuyoshi Saito, of the Japan Karate-Do International, conducted the clinic along with 25 members of his club out of Maimi, Florida. Sensei Rolle said it's just the first of many clinics to be staged this year.
Sensei Rolle, the WKMO president for the Bahamas, said they are delighted to reintroduce sensei Saito, one of the founders of Shotokan Karate.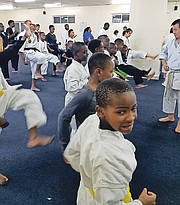 "We have put on this fighting clinic to teach the local karatekas the basic fundamentals in karate," he said. "We are trying to build WKMO martial arts because martial arts was dwelling off for a while, so we are trying to build it back up."
While this was just a one-day clinic, sensei Rolle said they intend to host another one in April when Shihun Adrian Ellis will be in town to conduct a two-day session at the same venue. The date has not yet been finalised.
"It's very good because it gives them an opportunity to be taught by living legends," said sensei Rolle, who conducts his own classes every Monday, Tuesday and Thursday from 6 to 7:30 pm in the ReVax Plaza on Soldier Road.
"They are recognised worldwide and as they say the pen is powerful, at the end of every course, they will get a certificate with the instructor's signature on it and they can go anywhere in the world and be recognised."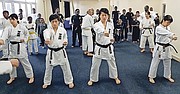 Saito said they came here to further enhance the sport. "It's a pleasure to be here," he said. "I live in Miami, but I haven't been here in a long time. I am glad that they finally invited me to come back."
Saito said his only regret is that they won't have sufficient time to impart all of their knowledge, but they hope that what is shared will be well received. He said he is definitely looking forward to coming back and working with the local association.
"We want to teach them traditional karate from Japan," Saito said. "So we know that they are in good hands. I hope that when I come back, I can take the time to teach them some spiritual aspects of karate as well."