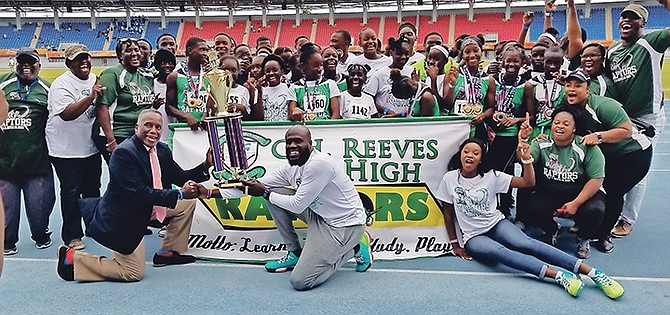 By BRENT STUBBS
Senior Sports Reporter
bstubbs@tribunemedia.net
The CH Reeves Raptors, completing a dominant performance in winning three of the four 4 x 400 metre relays yesterday at the Thomas A Robinson National Stadium, collected their 25th Government Secondary Schools Sports Association track and field championship title.
In securing their repeat title after they were dethroned for just the second time three years ago by the SC McPherson Sharks, the Raptors collected a total of 559 points. CH Reeves' only other loss came to the LW Young Golden Eagles in 2008.
CH Reeves' team of Melvinique Gibson, Marquell Newbold, Laquay Kemp and Aliyah Brown inked their name in the record books with their winning time of 4:21.48. They erased the previous mark of 4:26.92 that was set by AF Adderley in 2017.
And their quartet of Dontae Pennerman, Trayone Munnings, Larry Johnson and Jay-Onn Johnson put the icing on the cake with their victory in the under-16 boys' 4 x 400m relay, the final race to bring the curtain down on the 27th version of the two-day, junior high school meet.
"It's one of those you can't describe. Just to come back and defend your title and to win it again is just one of those feelings you just can't describe," said CH Reeves' head coach Rashad 'Tubba' McKenzie.
"It showed on the field. They went out there and did what they had to do."
The AF Adderley Fighting Tigers were keen rivals, falling short of the title with 380.50 points and the Sharks had to settle for third with 269.
The HO Nash Lions were fourth with 241, the Anatol Rodgers Timberwolves fifth with 215, LW Young sixth with 168.50, the TA Thompson Scorpions seventh with 158 and the DW Davis Pitbulls completed the eighth and final spot with 126.
Coach Melinda Bastian said they had some athletes missing in action, but not to take anything away from CH Reeves, they did as best as they could under the circumstances.
"They had one or two athletes missing from a few events. We always have next year. We have a bunch of young, talented athletes, so next year we expect to come back bigger and stronger," she.
Bastian noted that while AF Adderley is going through a rebuilding stage, she expects them to start their training programme a little earlier so that they are ready.
However, she said the Fighting Tigers will continue their training in preparation for the Bahamas Association of Athletic Association Nationals.
SC McPherson coach Lacricia Swann said their performances were pretty good. "In the relays, we expected to do a little better," she said.
"But the team did pretty well. We will be losing a few athletes next year but we hope to do a lot better."
There were a number of top performances for the various schools as some athletes produced double victories over the two days of competition for the junior divisions.
Vanessa Sawyer of AF Adderley tossed the under-16 girls' discus with 30.70m to shatter the meet record of 24.99m that was set by Chelsee Daxon of CH Reeves in 2018.
Her nearest rival was Kristina Butler of HO Nash with 23.45m. Kevanya Beneby of DW Davis got third with 22.27. And another record breaking performance on the field came Elijah Roker of Anatol Rodgers emerged as the champion in the boys' under-16 triple jump with a leap of 12.56m to replace the old mark of 12.18m by Joshua Anderson of AF Adderley. Kyo Dickenson (11.71m) and Johnathon Rodgers (11.53m) of CH Reeves were second and third.
AF Adderley's Katranel Dean, who powered across the finish line in 27.37 seconds in the under-14 girls' 200m to add to her crown she won on day one in the 100m in 13.95.
"It was very scary. There was a lot of competition and I didn't know what to do," said Dean, a 13-year-old eighth grader. "My coaches just told me to go for it and do it for my school. So I gave it all I got. I wasn't satisfied with the 100m because I know I could have done better. But I'm satisfied I won both events."
Finleey Etienne of CH Reeves also took the sprint double in the under-14 boys division. After he captured the century on day one in 13.16, he came back and stormed to victory in the half-lap race in the 200m in 26.55.
"I had to come out and really relax and when I came to the finish line, I had to finish strong," said Etienne, a 12-year-old eighth grader. "I felt good about the 100. I didn't have a good start, but I finished strong."
CH Reeves' Aliyah Brown also pulled off a double feat as she added a triumph in the under-16 girls' 200m in 26.62 to go along with her victory in the straight away race in the 100m in 13.64.
Rayheem Robinson of TA Thompson, coming of a second place in the under-16 boys' long jump and third in the under-16 boys 400m, finally got on top of the podium in the 200m in 24.08.
"It was good. I went out there and I ran hard," said Robinson, a 15-year-old eighth grader. "I was glad I won."
Marquell Newbold of CH Reeves won the under-16 girls' 75m hurdles in 12.56 for a new meet record. The previous time posted was 13.52 by Dayona Williams of CH Reeves in 2017. Darvinette Hanna of CH Reeves got second with 14.03m and Philippa McCartney of TA Thompson was third with 14.51m.
"It was a hot race, but I felt good because In just finished running the 200m heats," she said. "I enjoy the hurdles more because I'm used to it and I train for it more. I feel better about it."
Jahlando Wilson, the fastest qualifier, got left in the blocks, but made up enough grounds over the eight flights of hurdles to win the under-16 boys' 80m hurdles in 13.03 for SC McPherson.
"It wasn't too good because I messed up with my start," said Wilson, a 14-year-old eighth grader. "We were just standing up too long. There was also a false start, so I had to stay focused."
In the 800m, LW Young's A'Karee Roberts, winner of the 400m on day one in 1:04.32, surged ahead and took the 800m for her double in 2:40.34 for a new meet record, eclipsing the previous time of 2:43.10 that was set by Rowlia Joseph of AF Adderley in 2016. Kamia Smith of DW Davis was second in 2:47.40 and Bernechia Nelson of CH Reeves got third in 2:52.83.
"It was a good experience. I just tried my best," said Roberts, a 12-year-old eighth grader who came from behind for the win. "I feel like that was my best time to strike at the end."
Shanton Germain of SC McPherson pulled off a double victory in the under-14 boys' 400m in to add to his triumph on day one in the 1200m in 4:04.55.
"It was good. I just tried to maintain my pace and go for it," "When I got to the 200, I just decided to take over the race. My mother always tell me to do what I have to do."
SC McPherson's Carlyssia Armbrister, winner of the under-16 girls 1,500m in a meet record of 5:40.01 on day one, came back and took the 800m in 2:40.26 as she caught and past TA Thompson's Desha Pierre, who had to settle for second in 2:40.93. Melvinique Gibson of CH Reeves, was third in 2:42.97.
"It was good. I was tired," said the 14-year-old ninth grader Armbrister, who surged from behind on the final bend to pass Pierre. "I knew the girl couldn't beat me. I feel very good winning the two events, but I enjoyed the 800 metres the most."
Donald Anderson of AF Adderley pulled away from the field to win the under-16 boys' two-lap race in the 800m in 2:20.69. Anatol Rodgers' Kevinson Felix was second in 2:24.35 and Travona Munnings of CH Reeves came in third in 2:25.81.
Knights leading the way
The CR Walker Knights are out front of the senior division with a total of 340.67. The CV Bethel Stingrays are in second with 258; CI Gibson third with 245; Doris Johnson Mystic Marlins fourth with 206.33; RM Bailey Pacers fifth with 144; Anatol Rodgers sixth with 120.50; Government High Magics seventh with 96 and CC Sweeting Cobras eighth with 47.50.
While they will complete their segment of the meet with the final day of competition today, there were some outstanding performances turned in on day two in the senior division.
Sprinter Sharika Pinder, who could only muster a fourth place finish in the under-17 girls 100m on day one, came back and took the title in 18.63 in the 100m hurdles, an event she contested for the first time.
"It was good. I felt comfortable doing it," said the 15-year-old 10th grader. "It's my first time doing the hurdles. I only practiced it about a week go."
As the under-17 girls champion, CR Walker's Shamiah Brown moved up to the under-20 girls division where she pulled off another victory in the 100m hurdles in 16.42. She pulled away from the field and won the event by a hurdle length.
"It was hard because I came here to defend my title," said the 16-year-old 12th grader. "So I had something to prove. Nobody else had anything to prove, so I went for it. I worked hard and it showed."
Karlin King won the under-17 boys' 110m hurdles in 16.87 for CR Walker.
"I feel good about it. I worked hard to get here," said King," a 15-year-old 10th.
I want to thank my coaches for working me hard and pushing me hard to get here. "The competition was fierce. I didn't know what will happen, but I worked hard to get over the hurdles."
And Jahiem Wilson, who will double in both the 110 and 400m hurdles, took the high hurdles victory in the under-20 boys division in 14.87, despite clipping the sixth, eighth and tenth flight of hurdles.
"I got out fast and I tried to stay on top of the hurdles and try not to hit them," said Wilson, who easily cleared the first five flights of hurdles. "I hit about three of them. Because of my height, I had some problems clearing them."
Wilson, a 16-year-old 11th grader at CV Bethel, said he hope to be back today and duplicate the feat in the 400m hurdles as he attempt to qualify for the 2020 Carifta Games in Hamilton, Bermuda over the Easter holiday weekend in both events.
Felix Neely led a 1-2 sweep for CH Reeves in the under-20 boys 5,000m in 16:24.45. Crestwell Farrington got second in 16:32.48. Doris Johnson's Miguel Hopkins was third in 17:02.71.
On the field, CI Gibson's Judea Rahming won the under-20 girls' discus with 30.26m; CV Bethel's Donniesha McPhee took the under-17 girls' javelin with 24.64m; CR Walker's Zaria Forbes took the under-17 girls' long jump with a leap of 4.06m; CI Gibson's Fabian Storr won the under-17 boys' shot put with a heave of 11.90m and Hiliyah Rolle of RM Bailey soared 1.48m to take the under-20 girls' high jump.