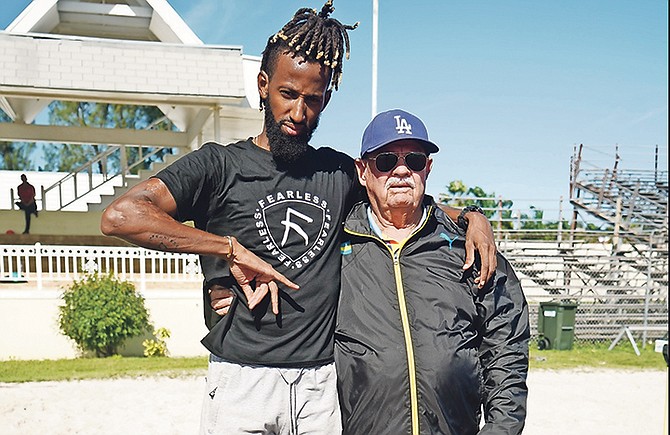 By BRENT STUBBS
Senior Sports Reporter
bstubbs@tribunemedia.net
COACH Ronald Cartwright feels that if Jamal Wilson can improve on his approach to the bar, he can become a legitimate global high jumper.
Wilson, the 31-year-old national champion, has been one of the Bahamas' premier jumpers and is coming off a dismal year in 2019 where he failed to clear a height at the Pan American Games in Lima, Peru.
But he has vowed to turn things around in 2020 at the Olympic Games in Tokyo, Japan.
"It was a good year to grow," was how Wilson summed up the past year. "It was a good year in terms of the experiences that I gained, but it wasn't a good year in terms of my performance. It was a good year for me to get prepared for 2020."
This year, Wilson said his sights are set on one particular thing, and that is the Olympics.
"I want to win the gold (in the men's high jump)," he said. "Ultimately, I want to win the gold medal, but to put it in perspective, I want to take it one day at a time. You can't think about the end result and forget about the middle.
"So right now, I want to score 100 per cent every day. I want to showcase what I got. To do that, I have to be able to put in the work and get myself ready for the challenge ahead of me."
Cartwright, who has been on the sidelines coaching Wilson for a number of years, said the sky is the limit for his protégé.
"I'm not going to predict any heights, but he's going to qualify for the Olympics very shortly. That is our goal," said Cartwright of Wilson, who will have to clear the height of 2.33 metres or 7-feet, 7 3/4-inches to book his ticket to Tokyo, Japan for the games, scheduled for July 24 to August 9.
"First things first. He has to qualify for the Olympics and whatever comes after that, we will take it."
Cartwright, however, believes that Wilson will have to concentrate more on his approach to the bar to get over the hurdle ahead of him.
"Right now his approach needs more attention than anything else," he stated. "We've been working on it all year and it's a lot better now. I think we've made some adjustment attacking the bar. We were not where we needed to be, but it's getting better, so he should do very well (this year)."
Wilson, however, feel that he's going to achieve his level of greatness, it's going to take a concerted effort in every phrase of his training.
"I have to take it one day at a time, but if I put it on a grading scale, I would have to say, I would give myself a F right now," he stated. "I want to get an A-plus every day. That means applying myself every day. In training, recovery, eating, my nutrition, everything has to be in order."
Wilson was a little more specific.
"There's nothing specific, but everything has to be re-enforced. you have to think about it constantly," he stated. "It's a never-ending job. It's something that you have to go to sleep with on your mind and apply what's on your mind that night and take it through the rest of the day.
"Until the medal is around your neck, you have to keep pushing to achieve your goal."
About the Bahamas Association of Athletic Associations will begin their 2020 season on Saturday at the Thomas A. Robinson Track and Field Stadium with the Odd Distance Track Meet, Wilson said he won't open up until on January 11.
"I want to open up at home where I am comfortable and where I can make my mistakes," he pointed out. "After that, I have a mini circuit to go on in the Czech Republic. I will be leaving here on January 17 and I will be back here on February 19."
Wilson, who has produced lifetime bests of 2.30m outdoors in Australia in 2018 and 2.31m indoors in Linz in 2016, was a silver medalist at the Commonwealth Games in 2018 in the Gold Coast, Australia. But he's yet to ascend the podium at the World Championships or the Olympics.
While he focus on his track career, Wilson is also hoping to expand his business with his jewelry and clothing line.
"I have a business call Quality Jewelers, which is a manufacturing repair company that do a lot of custom works," Wilson said. "If you need a chain or you need a hand chain or a ring, if you need anything jewelry related, we can provide it."
As for the clothing line, known as "Fearless," Wilson said it's a new clothing brand that focus on outfitting a person from their head to toe.
"So look out for that. It's on it's way," he stressed. "It's here, but it will be blown up in 2020 throughout the Bahamas."
So does Wilson with his performance as he compete on the international scene.