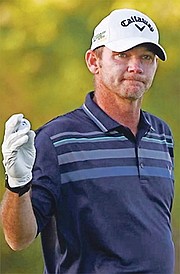 IN a dramatic finish, American Tommy Gainey took first place at bd Global's Great Exuma Classic at Sandals Golf Course, Emerald Bay.
Gainey ended the tournament with a trio of birdies on the back nine to finish at -11 and open Korn Ferry Tour with a title, his first international win in seven years.
"With the injuries that I've been through, the other troubles that I've had, I'm very lucky and very blessed," Gainey said to golfchannel.com. "This means everything."
Gainey finished four shots ahead of fellow Americans John Oda and Dylan Wu who tied for second at -6. In the conclusion to a back and forth afternoon, Gainey and Oda were tied at the 16th hole before he pulled away down the stretch.
Americans Will Zalatoris, George Cunningham and Sean O'Hair alongside Mexican Jose de Jesus Rodriguez all tied for fourth at -6.
The second Korn Ferry Tour event in the Bahamas in as many weeks is set to take place with the Great Abaco Classic at Baha Mar January 19-22.
Despite the impact of Hurricane Dorian, the partnership between bd Global Sports, the Baha Mar Resort and the Ministry of Tourism and Aviation produced an initiative to relocate the Abaco event to the Baha Mar's Royal Blue Golf Club.
Hurricane Dorian created catastrophic damage throughout the northern Bahamas, which included the Abaco Club where the event was held the previous three years.
Brooks Downing, CEO of bdG Sports, said his organisation's commitment to the event and its ties to the Bahamas led to finding a means for the tournament to continue and assist The Bahamas in the restoration effort.
"Given that business that brought us to the Bahamas, we now have friends and colleagues in Nassau, over in Marsh Harbour, in Georgetown and elsewhere, so when that storm hit it wasn't just some far away storm affecting some folks we may never know, this one hit close to home. It altered the opportunity to return to Abaco in January with our golf tournament.
"With Marsh Harbour recovering, running the 2020 Abaco Classic isn't just another market initiative for Bahamas tourism, as well as an economic boost for the island but a chance to use this event as a tool for recovery for that once great island. As we all came to the realisation that occurred, we got together with our partners from the PGA Tour and devised a plan to continue the event in 2020 yet not be a burden to tourism.
The ministry needed to focus its efforts elsewhere, we just needed a partner to help us - enter Graeme Davis and his team at Baha Mar," Downing said.
"While we are grateful for this event can continue, it's the message we hope to continue to push that will be most important that Abaco still needs your help to rebuild and that The Bahamas and its vast island nation are open for business. Come January we will be nearly five months post-hurricane. While most have moved on to the next disaster, this event will serve to remind those that Abaco is coming back and here's how they can help."
bdG Sports announced plans to donate proceeds from the tournament to the relief effort in Abaco, including all ticket revenue generated.
The Korn Ferry Tour tournament will feature 132 professionals vying in the year-long series to earn their PGA Tour card.
Graeme Davis, president at Baha Mar, said Baha Mar continues to embrace its role as a responsible corporate citizen.
"We are thrilled to welcome these events to this great destination, Baha Mar. Our commitment to hurricane relief and helping the recovery efforts from Hurricane Dorian to the Great Island of Grand Bahama and also the Abacos is so important to us," Davis said.
"This just continues to show our commitment. We saw the devastation that happened to the Abacos, Brooks and the Korn Ferry group came to me and we came together to see how we could help. We have this magnificent Jack Nicklaus signature course here at Royal Blue and we knew that in January we could make this available, putting aside our guest needs for that week and putting aside any revenue opportunity, we knew this was the right thing to do as being a good corporate citizen and working to help the relief effort as much as we can. The best thing we can do is to bring continued awareness to the Bahamas."