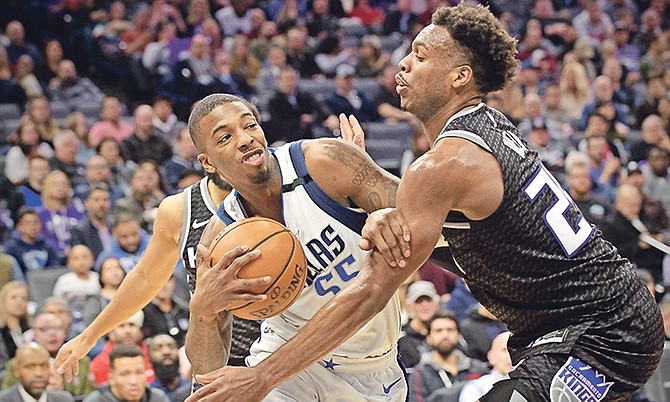 By RENALDO DORSETT
Tribune Sports Reporter
rdorsett@tribunemedia.net
FRUSTRATION continues to mount within the Sacramento Kings locker room and with fans at the Golden 1 Center as the team continues to descend deeper into the basement of the Western Conference standings.
Buddy Hield scored 25 points but shot just 3-11 from three-point range in the Kings' 127-123 home loss to the Dallas Mavericks Wednesday night. The Kings lost their third consecutive game and 11th in their last 14 appearances.
The boos reigned down on the Kings players late in the loss.
"Can't get a win man, we've just got to figure it out. It's hard to win in this league, you just have to keep grinding and try to find a way," Hield said.
"If we're not playing the way they want us to play, they're going to boo us. As a pro basketball player, the crowd can't phase you, no matter how many boos happen, I'm going to keep shooting the ball, we're going to keep playing basketball and they'll keep coming out to support to support us.
"We've been blessed to be here, fortunate to be here and blessed to play this game so the crowd can do what they want and voice their opinion, it's a free country. I'm just going to keep smiling and working my [but] off."
The Kings are currently 14th in the conference standings at 15-26, ahead of just one team - the injury plagued and rebuilding Golden State Warriors.
"I mean, everybody's frustrated. We're trying to figure it out too. But hearing the home team getting booed, we don't agree with it, it's a divisive opinion. I understand their frustration," Hield said.
"But I'm going to keep shooting the ball, when I make a three they like me and when I don't they hate you. That's how Sacramento fans are, man. You got to embrace it. It's fun, though. They want us to win, I feel them, I feel their pain so I'm with it.
The Kings had a firsthand opportunity to view the player many pundits thought they should have taken with the No.2 overall pick in the 2018 Draft - Luka Doncic. The Kings went on to select Marvin Bagley III while Doncic was selected third by the Atlanta Hawks and dealt to the Mavericks in a draft day trade for Trae Young.
Doncic has been in the MVP discussion this season averaging 29.8 points, 9.8 rebounds and 9.1 assists per game en route to a 26-15 record sixth in the Western Conference standings.
Doncic finished with the 20th triple double of his career - 25 points, 15 rebounds and a career high 17 assists - against the Kings on Wednesday night.
"Luka did a good job picking us apart, trying to keep the ball out of his hands is tough, especially on the screen and roll is tough. End of the game was pretty fine but the start of the third quarter is really when it got away from us. If we had shut third quarter off we probably would have won. Like I said we had a good game plan but Luka really picked us apart," Hield said.
"We made a fight back but playing from downhill is tough against a skilled offensive team like that, but no excuses, we just have to find a way to win at the end of the day. It happens all the time, we'll always say we'll learn from this or learn from that but we just have to figure out a win, that's all that matters at the end of the day."
The Kings trailed by 16 early in the fourth but came within three late to make the score 126-123 late in the game on a Barnes three pointer. Seth Curry then split a pair at the line for the game's final score.
Hield is averaging 20.3 points, 5.3 rebounds and 3.1 assists per game, but his shooting numbers are down from a season ago - 42 per cent from the field and 37 per cent from beyond the arc.