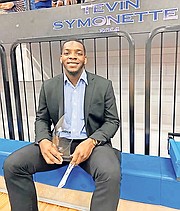 By RENALDO DORSETT
Tribune Sports Reporter
rdorsett@tribunemedia.net
A Bahamian baseball player was recognised by his high school for his historic career and his impact on the central Florida institution.
Tevin Symonette was inducted into the Mount Dora Christian Academy Bulldogs Hall of Fame last week during homecoming festivities. A multi-sport athlete, Symonette left his mark primarily on the baseball diamond.
In 2014, Perfect Game ranked Symonette as the 229th best player overall and the 49th best outfielder in the nation, the 45th best player in the state of Florida and the 9th best outfielder in the state.
Some of his other accolades include a two-time Perfect Game USA Underclassmen Preseason All-American Team Honourable Mention (2012-13), Under Armour Pre-Season All-American (2012).
He was awarded the Rising Star Award as a freshman and co-MVP award as a sophomore and joined the Orlando Baseball Academy in 2011. He was also rated a "Tier A" player at the 2012 Baseball Factory at the Sanford National Tryout, was named to "Perfect Game Florida" Qualifiers All-Tournament Team.
As a freshman Symonette hit .319 while leading the team with four home runs and 25 runs. He finished second on the team with 24 RBIs en route to earning a Rising Star Award.
As a sophomore he hit .413 and led the team with 31 hits, 26 RBIs and eight doubles. He was second on the team with three home runs and 26 runs and led the Bulldogs as a junior with three home runs, 25 RBIs, 27 hits and 27 runs and batted .370.
In the classroom, Symonette earned a 3.7 GPA and was a member of the Honour Roll from 2010-12. He was also named to the principal's list in 2013. The versatile Symonette was also a two-year letter winner in football and led the team in rushing with 103 carries for 689 yards with six touchdowns while recording 53 tackles during his sophomore season.
Following his tenure at Mount Dora, Symonette joined the Lipscomb University Bison baseball programme where his stellar career concluded last spring with a loss in the ASUN Championship.
He chose Lipscomb over UCF, Florida Tech, USC Upstate, Flagler College among others.
In his senior season, Symonette started 44 of his 45 appearances. He hit .282 with a .384 OBP and a team leading .513 slugging percentage.
He has also totalled 44 hits, one triple, 13 doubles and seven home runs with 26 RBI, 28 runs scored and 13 stolen bases.
As a junior, Symonette started all 43 of his appearances. He collected 31 hits in 152 at-bats for a .204 batting average. He also recorded four doubles, three home runs, drove in 22 RBI and scored 17 runs. He was a perfect 11-11 in stolen base attempts which was the third most on the team. He also drew 14 walks leading to a .275 OBP.
In 25 stars in 31 games of an injury-plagued sophomore year, Symonette hit just .159 with a .288 OBP.
As a redshirt freshman, Symonette started in 49 of his 50 appearances and hit .304 with 56 hits. He also posted a .500 slugging percentage with eight doubles, two triples, 29 runs and 37 RBI. He also had a .389 on-base percentage, stole four bases in seven attempts.
In his first collegiate season, he led the team with eight home runs, finished second on the team with 17 multiple-hit games and added 10 multiple-RBI games. He tied for the team high with a 10-game hitting streak and had a career high 4-hit game against USC Upstate.
His highlight of the year came in the postseason when his heroics to lead his Bison past the No.3 ranked Jacksonville University Dolphins 10-8 in the opening round of the Atlantic Sun tournament.
Symonette hit two home runs, went 3-5 at the plate and finished with two runs and three RBI on the night.
The son of Tellis and Melinda Symonette, he was also a three-time Bahamian national team member.