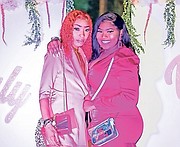 By JEFFARAH GIBSON
Tribune Features Writer
jgibson@tribunemedia.net
LAUNCHING a business is never easy. Add having a full-time job and tertiary studies to the mix and an entrepreneurial venture can seem far out of reach.
However, having a co-founder you can count on has made the journey more bearable for two female friends turned girl bosses.
Jewel Knowles-Bastian and Justina Ferguson have ventured into business together after having connected in their earlier days collaborating on a fashion project.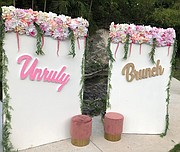 The duo decided they wanted to team up in a new way and realised in order to move forward they must be intentional about the steps they take. And those intentional steps led them to form Perfect Finish Bahamas in August 2018.
The company provides part-time and full-time event services, event coordination, theme design and concept creation for any type of event, any day of the week.
From birthdays parties to baby showers, weddings to corporate events, "we are inspired by companies abroad to create our very own exclusive customised backdrops, centrepieces, balloon arches, et cetera," the duo said.
"My partner and I had great interest in event planning, exclusively balloons and backdrops," Justina said. "With the desire to introduce this new style of décor to the Bahamas we decided to name the company Perfect Finish Bahamas, because we felt as if our company would add the perfect touch within our society," she told Tribune Woman.
Jewel added: "My partner and I are both passionate about décor and beauty. I decided 17 months ago to master the art of designing, planning and executing events for Bahamians the perfect way. (With us) both pursuing degrees in business, accounting and marketing respectively, the career paths combined create the perfect collaboration to make Perfect Finish what it is today."
However, before they could reach their 'Perfect Finish, the duo admitted that they did experience some setbacks along the way, mostly due to having limited resources and time to create events.
"The horror stories of shipments arriving late for events and having to re-buy items locally to make the event possible... With persistence and determination we definitely do not allow these moments to hinder us from pleasing our clients," said Jewel.
Justina added: "A major setback that the company faced was during the initial start of the business. We both had a vision, but barely any materials to execute the plans we wanted. We yearned to learn and perfect our work, but without materials it made it difficult and challenging. Nonetheless though, with patience, time and personal investments, we gradually became capable of producing any plan and vision of ours."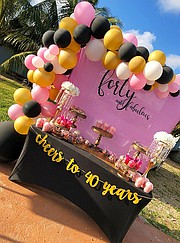 And while the duo could have been intimated by the potential oversaturation of small businesses in the local events industry, the two embraced the competition and let it spur them on to create something unique.
"A lesson that was learned thus far...is that no matter how overpopulated the market may be with other event planning companies, either small or large, each company has its own potential, and is unique in their own way. Competition is always good. It boosts imagination and ways to stand out amongst the rest," Justina said.
Jewel and Justina agree that balancing work, school, and running a business has been challenging, but they benefit from being each other's cheerleaders.
Jewel is a mom, wife and student, so she needs all the support she can get.
"Being an entrepreneur for the last nine years I have concluded that balance does not exist. For me, I kid you not, I am all over the place. I do what I can when I can. Whatever is important at that moment I will complete and go back to what is not completed later. It is just basically pacing yourself and prioritising," she said.
For aspiring entrepreneurs looking to the follow a similar path, Justina had this piece of advice: "Never give up on your dream and goals. Nothing good comes easy, and if something is a real passion of yours then you should work extremely hard, stay devoted, and determine to achieve it. Being an entrepreneur is not all glitz and glamour. There will be days that you may feel like giving up, but remember to keep the courage to withstand any trial that comes your way."
Jewel added: "Allow God to be your guide and remember timing is everything. Don't give up, there will be down phases where you will have to reinvent, recommit and reboot yourself. Stay humble, don't mind the hype and move at your own pace. I would say take that risk, even if you know nothing about that product. The only way you'll know if something will work is if you try. Try and try again and if you fail – that's OK. Try a new product. Whatever your gift may be, be an expert at it, embrace it humbly, and execute it wholeheartedly!"