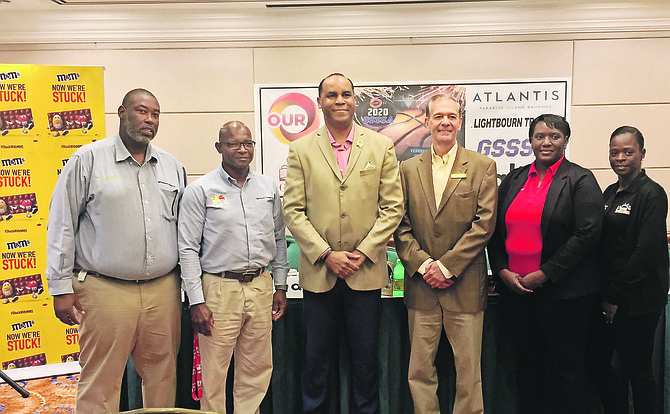 By RENALDO DORSETT
Tribune Sports Reporter
rdorsett@tribunemedia.net
The Government Secondary Schools Sports Association Basketball championship series promises to provide an unique experience for the student-athletes participating and fanbases cheering them on.
Stakeholders hosted a press conference at the Atlantis resort yesterday to announce plans for this year's event, to be hosted February 10-12, tentatively set for Loyola Hall.
Sponsors include REV TV, Atlantis, Generali, Aliv and Lightbourn Trading.
GSSSA President Varel Davis said the event should set the stage for the elite talent of the student athletes to be showcased on a national stage.
"These sponsorships go a long way in assisting us with our championships. These kids are very excited, they have been working hard since November to get to this point," she said.
"We expect for the public to come out and support this, there is a lot of talent so we invite everyone to come out and cheer on their favourite schools. We also have something very special for the winning teams at the end of the championship, but for the teams...we have to get there first."
To advance to the championship round, teams must advance through the sudden death semi-final rounds hosted January 31 and February 3 at the AF Adderley Gymnasium.
"Before we can even talk about the big dance, you have to get there which means we are set for some exciting playoff action and we are going to have a packed gym at AF Adderley," Davis said.
"All these programmes are very excited because it's a win-or-go-home situation."
The Senior Boys semi-finals matchups will feature the No. 1 - CI Gibson Rattlers vs No. 4 – Anatol Rodgers Timberwolves and No. 2 – Doris Johnson Mystic Marlins vs No. 3 – CC Sweeting Cobras.
The Senior Girls semi-finals features the No. 1 - CI Gibson Rattlers vs No. 4 - CR Walker Knights and the No. 2 - CV Bethel Stingrays vs No. 3 Anatol Rodgers Timberwolves.
In the Junior Boys division, the No.1 - DW Davis Royals face the No.4 - CH Reeves Raptors and the No. 2 Anatol Rodgers Timberwolves face the No.3 SC McPherson Sharks.
The Junior Girls division's top seed is the No. 1 – TA Thompson Scorpions against the No.4 - CH Reeves Raptors while the No. 2 HO Nash Lions face the No. 3 DW Davis Royals.
In the championships, each of the four divisions will be contested each day with the senior boys' matchup televised live at 8pm on Our Tv.
Evon Wisdom, of the Ministry of Education's Sports Unit, said the event has grown exponentially with the continued support of its most loyal sponsor and new additions.
"Our championships started at humble beginnings in local school gymnasiums. We then moved on to the KGLI Gymnasium, which in those days we could only half fill and then we got an opportunity from Cable Bahamas. Since that intervention, this event has grown to where we host all our playoffs in the national gymnasium to capacity crowds," he said. "Where we envision this going is to have more and more corporate entities like our partners here to assist us in making this event an even greater success. We only see this getting better. One of the things we are trying to highlight is our women in sport. A lot of these young people receiving this opportunity are of humble means and so for us to showcase their skills means a lot to them and they perform to an even higher level."
Rick Gallagher, vice president of entertainment and special events, said his organisation was eager to come on board to aid the development of the sport in the country.
"We are pleased to once again support the GSSSA to help young people succeed and to help them reach their potential to get a chance to go to college through basketball, to get a great education and to build character.
"The Bahamas at heart is a big part of our mission, an important part of what we do and it is an important initiative for us at Atlantis. Sports tourism is also a very big part of what we do at Atlantis. We may have the next Buddy Hield, Deandre Ayton or Rick Fox and we would love to be a part of that process in reaching that potential," he said.
"From its inception, Atlantis has been an avid supporter of youth development and indeed a sponsor of a myriad of sporting programmes. We couldn't be more excited to assist in sponsoring this event. It is our belief that sports is an important empowerment tool for young people the world over," he said.
Aliv is in its fourth year of sponsorship, Generali in its second, while Lightbourn trading comes on board for the first time.
Lightbourn trading will be giving credit to the GSSSA for them to outfit the concession stand at the event.
"At Lightbourn Trading we want to give back to Bahamian society and what is a better avenue than sports and education so I thought we can make it happen. We offer an excessive amount of healthy and nutritious products and they all have their benefits.
"Our organisation would like to give back where it can and we look forward to doing so for years to come," said Fred Taylor of Lightbourn Trading.
"To connect with these social events, we want to help to build up the younger generation, help to partner and give back to everyone that supports our brands. We have to allow some of our revenue to help trickle down and build up our economy."