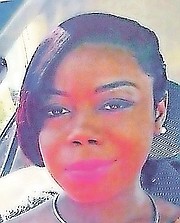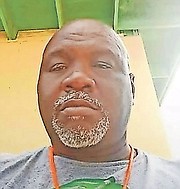 By BRENT STUBBS
Senior Sports Reporter
bstubbs@tribunemedia.net
"GONE, but not forgotten" are the words posted at the top of the banner to promote the Diamond League Basketball Camp for the late versatile athlete Jonique 'Mini' Webb and basketball coach Sherman Smith.
Yesterday, coordinator Terrance 'Red' Eye' McSweeney, flanked by his instructors and members of both families, indicated that all systems are go for the summer girls' and boys' basketball camp that will run from Monday, July 13 to August 15 at the Hope Centre Church courts.
In preparation for the tournament, geared for girls between the ages of 8-16 from 9am to noon and boys 8-11 from 1-4 pm, McSweeney will hold a pre-registration at the Hope Center from 10am to 2pm on Saturday.
"The only real concern, and that not just goes for our camp, but anyone in general, is that we can do as much as we can do and think that it is right. There's always room for improvement," said McSweeney when assuring the parents that they intend to follow the safety guidelines as imposed by the Ministry of Health.
"As simply as meeting and greeting, we can't do that anymore," he pointed out. "We are a country that loves to hug and shake hands and high five. That is a no-no with the camp.
"Once the camp is over, as they wait for their rides, the players will have to distance themselves, keep their masks on. It's a must that the camper brings his or her mask. Even though we are out in the sun and doing constant movement, the camp will afford your child three to four breaks in the three hours."
Having gotten the approval and endorsement of the Bahamas Basketball Federation through the recommendations from FIBA, the global governing body for basketball McSweeney said they are quite prepared to stage the camp in the next norm on and off the court.
"Normally the camp is ran by myself, but this year I ill have two camp assistants," McSweeney said. "Raven Jones, a senior ball player at St John's and Jasmin Roker, also from St John's, are here to assist me.
"It's a five week intense camp, four weeks of basketball and one week of fun in the sun, doing drills as well as playing games. We will climax on August 15 with a fun night for the parents with awards and certificates for those persons who would have caught the eyes of my two assistants as well as myself."
McSweeney said it's anticipated that they will cater to no more than 90 participants in both the girls andc the girls segments at a cost of $25 per day or a total of $180 for 25 days.
Two of Smith's children, Sherzel Smith-Williams and Sherman Smith Jr, said they were really surprised when McSweeney contacted them to get their approval for honoring their father.
McSweeney said it's not so much about the cost for the camp, but the fact that they can honor two persons in Webb and Smith for the legacy that they left behind in the short of space of time that they functioned.
"Our father often have a camp himself, but obviously he passed earlier this year due to Covid, so that isn't going to be happening," Smith-Williams said. "So we are excited now to let people know about this camp so that they can take part.
"We also feel very honored that a part of it is in his memory as well."
Smith Jr. thanked McSweeney for his constant effort in working with basketball from 1994 must be commended and he advised all female and male players who want to develop their game to come out participate in the camp.
Ariel Webb, who attended the press conference with her father, John Webb, said like her sister, Jonique, she too was a part of the camp, which actually provided ore than just basketball tips.
"On behalf of my family, we would like to thank coach McSweeney for having us here," she stated. "If your mind is not there, don't bother with it because this is a lot of work.
"But if you love the sport, me out and have fun. You are going to work. Just do what he say. You will have a good time. So one behalf of my family, we are all in."
Ida Poitier-Turnquest, the president of the 56 year-old Bahamas based Beta Omega Chapter of Alpha Kappa Alpha Sorority, a member of the international service organization made up of college educated women for more than 100 years, said they delighted to be able to honor one of their very own in Webb.
"When coach McSweeney gave me a call and asked if we would take part, we jumped on the chance and the opportunity because when Jonique was with us, that was all he spoke about, her time with the Diamond League," Poitier-Turnquest said.
"Our path we will be playing is that we will be coming in once a week and address certain topics like leadership, service, commitment and college education. In terms of education, we will be stressing that you attend the University of the Bahamas. But if you plan on going away, we would be recommending that you attend the historic black colleges and universities where we do an opportunity for scholarships."
Poitier-Turnquest also revealed that the Beta Omega Chapter of Alpha Kappa Alpha Sorority will also provide a trophy to be presented to one of the outstanding campers. The criteria for the award will be revealed during the camp.
Additionally, the Hope Center will be leading its support to the boys by providing a speaker on a weekly basis, who will provide the same type of support as the eta Omega Chapter of Alpha Kappa Alpha Sorority to bring some balance to the camp.
Raven Jones, the daughter of the late Grand Bahamian basketball player Oral 'Big O' Jones, is now entering the 11th grade at St. John's College. She first attended the camp in 2018, but is now making a contribution as an instructor.
"I decided to come back because it has really helped me and pushed me to my limits with skills and durance," she stressed. "I want to help the younger players get better and improve."
And Jasmin Roker, who also started the programme in 2018, said after she left the junior team at St John's College for the senior team, she felt she has grown tremendously andc want to pass her experienced on to others.
"I actually decided to help out with this camp because I feel In have a lot to offer," said Roker, who will entering the 12th grade and member of the Diamond League programme, attending the Saturday sessions to improve her game.
Roker actually came to the Diamond League programme as a soccer player from HO Nash Primary School. But because of her rapid development under McSweeney, there were a lot of queries about her age as a junior when the Giants defeated one of the top schools in the Bahamas Association of Independent Secondary Schools (BAISS).
McSweeney said when he started the Diamond League programme in 1984, he said the sole purpose was to development of the Suns' girls basketball programme at Temple Christian where his daughter, Tamara Diamond McSweeney, was playing.
At the time, McSweeney said only St Anne's Bluewaves, under coach Shayne Sweeting and Hattie Moxey at Jordan Prince Williams Falcons joined in with Temple Christian to take advantage of the programme.
However, McSweeney said he eventually moved his daughter to St Augustine's College to develop her skills in track andc field, while he went to Jordan Prince Williams to help out with their basketball camp and he began coaching Webb.
As for Smith, McSweeney said he was invited to Carlton E. Francis to assist him with his primary school girls' team. This year when he got sick and had to be admitted into the hospital, McSweeney said he ended up coaching Smith's team.
While Webb passed away on January 19 at the ager of due to lupus, Smith died on April 22, having being diagnosed earlier with sickle cell that led to complications with Covid-19.
McSweeney said he's honored to keep their memories alive though the camp.