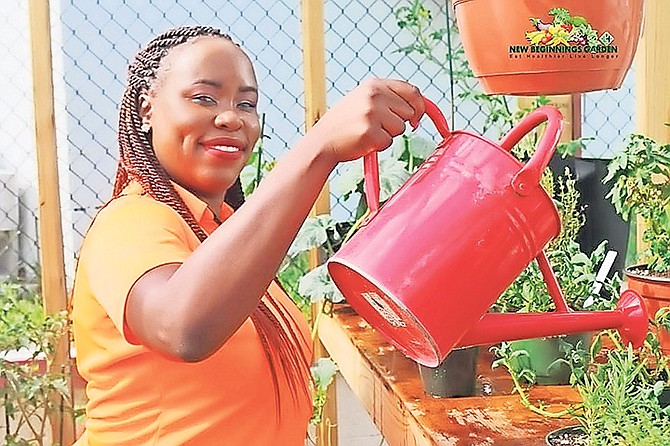 By ALESHA CADET
Tribune Features Reporter
acadet@tribunemedia.net
Latoya Hutchinson believes life has a unique way of showing us what is truly important and ultimately where our attentions should be directed. In her case, a serious health warning by a doctor led her to re-examining her lifestyle choices and eventually making major changes to how she viewed food.
"In 2018, my mother was diagnosed with diabetes, and the doctors gave us a very simple but life-changing option: 'Change your eating habits or risk dying early'," said Latoya. These words had such an impact on her that she decided to start growing her own food. This was the start of a new business venture for her called New Beginnings Garden
Her main goal with this initiative, she told Tribune Health, is to provide gardening services to the community. She wants to inspire her family and friends, as well as the wider community, to recognise that healthy food options are within easy reach.
"I started the garden to help provide my mother with more healthy options and soon after I realised that many others have been given the same life-changing option from their doctor. Some may call me dramatic, but it's literally life or death. And from the desperate need of more healthy options for our people (who suffer) with high obesity rates, gardening is essential," she said.
Latoya's offers her services to help Bahamians instal and maintain their own organic gardens, whether these are for your own home, a school or a business. She wants everyone to experience the pride and joy of harvesting fresh fruit, vegetables and herbs they planted and nurtured themselves.
The nation-wide lockdowns due to the COVID-19 pandemic saw many Bahamians turn into hobby gardeners, and Latoya said she's seen interest in her work increase exponentially.
To help people get started with their backyard farming, she offers not only tips and tricks, but also tools, seeds and plants via her online store.
New Beginnings Garden, she said, can help Bahamians instal and create spaces where they can grow everything from watermelon, pineapple and strawberries to peppers, tomatoes and spinach. She pointed out that one doesn't even need a garden to accomplish this; rooftops, balconies and kitchen countertops can be utilised as well.
"We will collaborate with primary schools to introduce organic gardening at an early stage. In addition, we will work closely with businesses who have wellness programmes and are willing to introduce indoor gardening to their lunchrooms or in their outdoor spaces. We will also work with retirees to help them acquire a new skill set that will be an essential tool during the next chapter of their life."
Planting and farming, said Latoya, can increase social connections and create a sense of community. Eating healthy in the Bahamas has always been very costly, and with the sudden increase in unemployment, she said, it will be even harder for people to be able to afford fresh, healthy food from their grocery stores, so being able to grow your own is now more important than ever.