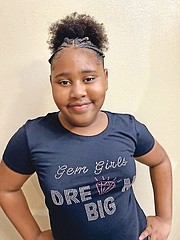 By ALESHA CADET
Tribune Features Reporter
acadet@tribunemedia.net
SHE may be only 10 years old, but Justice A Hall is a girl with mission, and her own company.
The sixth grade Temple Christian student said she came up with the idea for her Gem Girls accessories business because she wanted to inspire young girls to be committed to their dreams and to trust in God.
Justice, the daughter of author and wealth coach Dr Melisa Hall, said her company is designed to be "purpose-driven, pretty, precious, positive, poised and polished."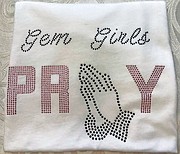 She was able to work on her business during her free time in lockdown earlier this year. What she came up with was a line of inspirational products like T-shirts, hair accessories, jewellery, lip gloss, and even slime. The young entrepreneur believes these products can help girls have fun, look pretty, and at the same be more confident and unique.
"From I was younger I fell in love with arts and crafts and began making slime with lots of colours and fragrances. My friends called me the slime queen. My mom, Dr Melisa Hall, would often host craft parties with my friends where I would teach them to make slime for free," Justice told Tribune Woman.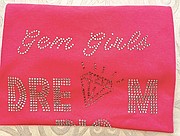 "Eventually, my friends at school started to ask me to make slime for them and I would package it and then sell it to them for a small fee. This was the (start) of me becoming a creative entrepreneur. Over the last few months I wanted to do something to inspire little girls to be confident and unique, so I took an online course with my mom that taught us how to do bling T-shirts, which is now my number one product. I love doing crafts, working hard, but the packaging of my products is so much fun."
As a elementary school student, Justice had a built-in market: her teachers and girls around her age.
"One of my business mentors, Shena Caroll, who shared the bling idea with us, invested in my business and purchased the equipment I needed and then I officially launched my T-shirts in June. Since then I have had two memorable clients: my first client, Mrs Hepburn, who is also my grade five teacher, and Mrs Katherine Hamilton who purchased T-shirts for herself and her daughter and her nieces," she said.
Justice said she loves being creative when coming up with new products; the process of researching how to create products online, packaging, and learning to make her own custom designed labels and 'thank you' cards.
"I also enjoy saving the money I receive," she added.
Justice also helped create her own website, https://gemgirlz.company.site, after taking an online web design class with her mother in April.
And the tween has grand plans for the future.
"I see my brand going into local and online shops. I really want to be able to package and ship internationally. That's my focus right now. I am also getting into designing Gem Girls masks as well, and all things girly. I really want to learn more about marketing as well. I am also planning on becoming an author as well," she said.