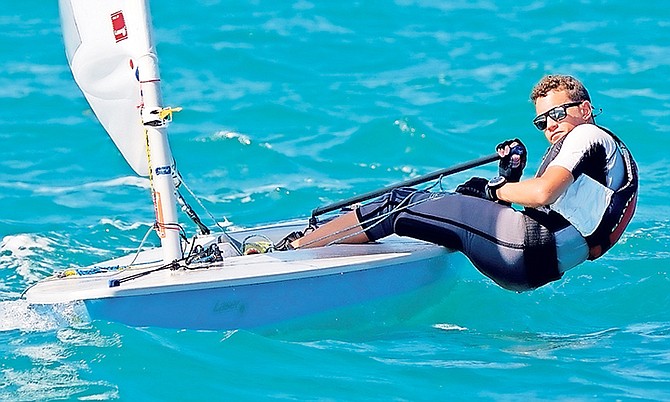 THE Bahamas National Sailing School (BNSS) is pleased to introduce Spencer Cartwright as a top-level international sailor who began his impressive sailing career with the BNSS at the age of eight.
He developed a love for the sport and through hard work, discipline and determination achieved the many extraordinary goals he had set for himself. He has won more junior national championships in the Optimist Dinghy Class than any other sailor in The Bahamas - four to be precise.
He is currently our reigning Laser National Champion (open event, not junior). From the time he started to sail he was always in the top ranks of the classes in which he participated, the main ones being the Laser, Snipe and Sunfish classes in addition to the Optimist Class.
He has made us proud by having represented The Bahamas internationally at major world and regional events, such as Laser Junior World Championships, Optimist World Championships, World Sailing Youth Championships, and Central America & Caribbean Games.
Spencer made it on to the Roger Williams University sailing team in the first year of attending the college and is today captain of the team – one of the top sailing colleges in the USA. His next major goal is to represent The Bahamas in the 2024 Olympic Games in the Laser Class.
When asked about what inspired him about sailing and how he benefitted from the sport and being a part of BNSS, Spencer put his thoughts in the following statement:
"My name is Spencer Cartwright and I grew up sailing on Montagu Bay in Nassau, The Bahamas. These past two months in lockdown might be amongst the longest periods I've gone without touching the water since I began sailing at the age of eight.
"Needless to say I really enjoy the sport. In fact, this intense passion has led me to continue sailing in college as a member of the Roger Williams University sailing team and even sparked aspirations of sailing in the Olympic Games.
"I often don't like to admit it but more often than not your mother does know best. Despite my protest, she enrolled me in the BSA's summer camp. However, the second the wind hit my sails I knew it was for me. The opportunity to steer my own boat on the open water was both empowering and freeing as there were no boundaries or lanes to confine me. It brought me a new sense of individualism and responsibility. Yet, the deciding factor for me to join the year round programme were the amazing friends that I had made that summer.
"The best thing about the BSA, BNSS, and the sport of sailing in general is the people they attract. If you continue sailing you are bound to develop valuable relationships with interesting people from all across the world because the sailing community is so uniquely small and close knit.
"There's tons of other sports to choose from and though I could have excelled in other sports, I wouldn't have had it any other way. Sailing has truly made me the person I am today and even contributed to my success both academically and socially.
"If I read that last sentence as a young kid I probably would've rolled my eyes and said it was just 'irrelevant mushyness.'
"Yet as an adult I truly believe it's true. Each competition begins even before your boat touches the water. You must be responsible to take care of your boat so it is in racing condition every day after practice. Then you must be prepared by making sure all of your rigging is in the best setting for the conditions.
"Once the racing begins you enter a battle where you must use calculated and critical thinking, physicality and even luck. Nothing is more rewarding than outsmarting your opponents and getting a huge shift in your favour. You feel like a wind god who can predict the future.
"However, nothing is more frustrating than being on the losing end of a shift. Here you are most challenged as a sailor and you must use composure, determination and resilience to clear your mind and fight back in the same race or the following one. Perhaps my most valuable lesson learned is accountability. This is highlighted when I watch professional soccer, basketball or football athletes complain and argue with officials like spoiled children when a call doesn't go their way.
"When sailing there typically aren't any judges on the water and when rules are breached the responsibility falls on the competitors to handle them accordingly by enforcing or taking their own penalties. This is directly parallel with daily life. To earn your competitors' respect or feel satisfied in victory, you must be your own referee.
"Each of these skills has improved my academic ability and led me to earn various scholarships and accolades. The goal to perfect these skills has made me a decorated sailor with several Optimist, Laser and Snipe national championships to my name and earned me the experience of competing at the international level. Each of these skills are readily available at the BSA and BNSS programmes.
"Finally, I'd like to speak about my experiences sailing in college. It has honestly been the best time of my life and I urge every sailor with the opportunity to take it. Sailing at Roger Williams in the NEISA conference has allowed me to get countless hours on the water.
"I get to practice four days a week and compete nearly every weekend, consistently knocking out up to 18 races amongst the most competitive fleets in our region, while being provided with coaching and equipment of all sorts. The system is quick and efficient with simple yet fun boats such as the FJ to gather as much experience as possible with an even playing field.
"If you want to become a successful sailor this is certainly the route. The opportunity to do team racing is a refreshing alternative to your typical fleet racing. It's high intensity and watching three boats work as a unit has made it my favourite pastime.
"Now entering my senior year I've grown to compete in the A division as the captain of my team and push week after week against the most talented sailors of my age range to qualify for national championships. Although, while rewarding it is exhausting so I've developed a new talent for organisation and time management. Meanwhile, the protest hearings and rule discussions have taught me how to advocate for myself in job interviews and daily life.
"I guess to wrap it up I should say get involved or stay involved if you already are. Sailing for The Bahamas has taken me all across the world to school in the (United) States and events in New Zealand, Italy, Canada, Columbia, Bermuda and The Dominican Republic. It has placed me in great positions with great people around me and I'm sure it will do the same for you or your child."