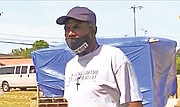 By DENISE MAYCOCK
Tribune Freeport Reporter
dmaycock@tribunemedia.net
ABOUT 300 residents of East End Grand Bahama received food care packages on the weekend thanks to Reach Out Ministries, assisted by the Rotary Club of Grand Bahama and other local volunteers.
Deputy Prime Minister Peter Turnquest was on hand helping with distribution, and also greeting his constituents who are still recovering from the ravages of Hurricane Dorian.
Dudley Seide, founder of Reach Out Ministries, and local volunteers, including Rotarians, led by club president Christine van der Linde, went to the settlements of Freetown, Gambier Point, and High Rock.
Mr Seide has fed thousands of struggling families in Freeport through his feeding programme during the COVID-19 crisis.
"Today's (effort) is part of my feeding programme called Feeding Grand Bahama, and we decided to take it to East End this weekend," said Mr Seide on Saturday, who has now expanded his programme beyond Freeport to the outlying settlements.
In addition to distributing packages of groceries, residents of East End were also served chicken souse.
Mr Seide thanked partners such as the Rotary Club of Grand Bahama, and Thompson Legacy for assisting with distribution, and also Equinor, and Sawyer's Fresh Market for their contributions to the programme.
Their target was to feed about 300 residents in the east on Saturday.
Mr Seide noted that many of the displaced residents came from Freeport to their homes, which sustained severe damage during the storm and are still not habitable. Some have pitched tents on their property.
"We want them to understand we care about them because they went through so much with Dorian and now COVID-19, and we want to put a smile on their faces for Father's Day," he said.
Ms van der Linde, president of the Rotary Club of Grand Bahama, said they are very pleased to assist Reach Out Ministries.
"We are partnering with Reach Out Ministries once again in their feeding initiative to feed those in need, she said. As you know Rotary is an international service organisation and being of service to others is what we are mandated to do," she said.
Mr Turnquest, MP for East Grand Bahama, thanked Reach Out Ministries and the Rotary Club of Grand Bahama, and the volunteers for their efforts.
"I am here to support Reach Out Ministries and Dudley Seide, as well as the Rotary Club (of GB) for the effort they are making in East GB, and assisting residents who are finding it a little difficult as a result of Dorian in the first instance, and now with the COVID situation.
"As you know there are a lot of people who would have been displaced, who lost their jobs, and some who are on reduced workweek, making it very challenging for some to make ends meet.
"All of these efforts to bring some level of comfort and necessary supplies to the residents is certainly something we are very appreciative of, and as you know Reach Out Ministries is doing a fantastic job in GB for many years now," said Mr Turnquest.