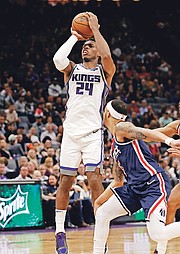 By RENALDO DORSETT
Tribune Sports Reporter
rdorsett@tribunemedia.net
DESPITE being relegated to a bench role by the Sacramento Kings, Buddy Hield continues to set new records as one of the elite three-point shooters in NBA history.
The fourth-year guard now has made more three-point field goals than any other player in his first four NBA seasons with 830. He surpassed the previous record of 828 set by Damian Lillard of the Portland Trail Blazers.
Hield set the new mark in Tuesday night's 133-126 win over the Washington Wizards at the Golden 1 Centre in Sacramento, California.
He came off the bench to finish with 17 points, five rebounds and four assists in just 23 minutes. He shot 6-16 from the field and 4-8 from beyond the arc.
Through 61 games this season, Hield is averaging 19.9 points, 4.9 rebounds and 3.1 assists per game while shooting 42.7 per cent from the field and 38.7 per cent on three-pointers.
On February 8, Hield shot 9-10 from beyond the arc, scored 31 points in the Kings' 122-102 win over the San Antonio Spurs and simultaneously became the fastest player in NBA history to make 800 career three-point field goals.
He accomplished the feat in just 296 games to surpass the mark set by Golden State Warriors' guard Stephen Curry, who did it in 305 games.
Hield made all four of his three-pointers in the first half, including a four-point play on one possession to give his team a 76-49 lead.
The Kings held a 27-point lead at the half but saw that advantage erased as they surrendered a 46-point third quarter.
The Kings have won six of seven since the All-Star break and have improved to 27-34 - No.19 in the Western Conference. At 7-3 in their last 10 games, only the Los Angeles Lakers (9-1), Milwaukee Bucks (8-2) and Houston Rockets (7-3) have had better or equal records during that stretch.
The Kings are three games behind the No.8 Memphis Grizzlies (30-31) but currently hold the tiebreaker over Memphis after winning both matchups within the last week.
Hield was moved to the bench on January 24 and has continued his production post-All-Star break after winning the Mountain Dew Three-Point Contest.
Throughout 11 games in February, Hield shot 45 per cent from the field, 46.3 per cent from three-point range and averaged 18.8 points per game in limited minutes.
Sacramento had previously lost six consecutive games before Hield's move to the bench but has gone 11-5 since the lineup change.