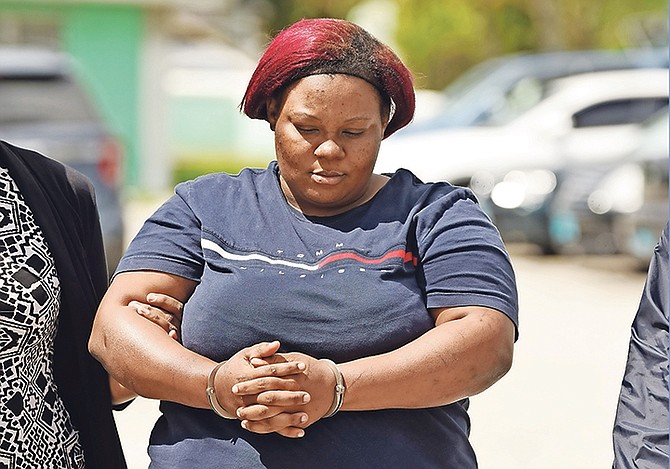 By FARRAH JOHNSON
fjohnson@tribunemedia.net
A 26-year-old mother has pleaded guilty to charges of participating in a fraudulent marriage to help a Haitian man get a Bahamian spousal permit.
Janelle Brown was charged before Magistrate Samuel McKinney with committing a fraudulent marriage; making a false declaration of marriage; fraud by false pretences; possession of false documents; uttering false documents and conspiracy to commit fraud.
Brown told police she was paid more than $1,000 to carry out the scheme.
The court heard Brown entered into a fake marriage on August 11, 2015, to get a spousal permit from the Department of Immigration.
and a marriage certificate from the Registrar General's Department by means of false pretences.
Brown was also accused of being found in possession of a marriage certificate bearing the name Jessica Newbold and Lugens Saint-Aude, knowing it was not genuine.
She and Saint-Aude were also charged with conspiracy to commit fraud by false pretences between August 11, 2015, and March 20, 2017.
Saint-Aude, who was charged before Chief Magistrate Joyann Ferguson Pratt in relation to the matter on Wednesday, was not present at yesterday's arraignment.
Brown was further accused of uttering a spousal permit at the National Insurance Board bearing the name Lugens Saint-Aude, with the intent to defraud.
She pleaded guilty to all the charges and the matter was adjourned to April 6.
Bail was denied and she was remanded to the Bahamas Department of Correctional Services. She has the right to apply to the Supreme Court for bail.
The prosecutor, Assistant Superintendent Barrington Miller, said Jessica Newbold went to the Registrar General's Department on July 12, 2019, to register her newborn child.
There, it was brought to her attention who the father of her child was and that she was married, but the father's name was not on the certificate.
However, the prosecutor said Ms Newbold informed the person at the Registrar General's Department that she was not married nor had she ever been.
As a result, Ms Newbold left and went to the Financial Crimes Unit to file an official complaint.
ASP Miller said an investigation into the matter led to Brown's arrest.
During an interview under caution, Brown admitted to using the name Jessica Newbold.
She also told police her name was in fact Janelle Brown and admitted that during the course of the marriage, she never lived with Saint-Aude.
Brown also told police that she was paid $1,500 for her participation in the fraudulent marriage.
The fake marriage took place on August 11, 2015. Brown received a marriage certificate that same day. She also obtained a spousal permit from the Bahamas Department of Immigration.
Sometime later, she went to NIB along with a male to have him registered where he was issued an NIB smart card.
According to ASP Miller, as a result of the investigation, Brown was further cautioned and charged and entered a guilty plea.
Brown was represented by attorney Anthony Newbold.
He told the judge up until now Brown, a cashier at Wendy's, had been a model citizen.
He also noted that his client was a mother of four children aged nine, seven, four and two and said something had to happen to drive her to the extent to do the things she admitted to.
Newbold asked Magistrate McKinney for the opportunity to apply to the Department of Social Services for a report on Brown's circumstances and living situation. He insisted the report would put the court in a better position to render judgement.
In response, Magistrate McKinney granted the counsel's request to have a social inquiry made into Brown's status and position to give her attorney the opportunity to present a mitigation plea on her behalf.