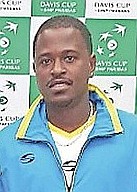 By BRENT STUBBS
Senior Sports Reporter
bstubbs@tribunemedia.net
VETERAN player/captain Marvin Rolle has secured the fourth and final spot on the Bahamas Davis Cup team, while Larikah Russell and Simone Pratt earned the third and fourth spots on the Fed Cup team. But there's still some concern about whether or not they will travel to compete because of the spread of the coronavirus.
The positions for Rolle, Russell and Pratt were determined following the Bahamas Lawn Tennis Association's final trials held at the National Tennis Centre over the weekend.
Rolle, 37, will join the trio of Justin Roberts, Kevin 'KJ' Major Jr and Baker Newman. Roberts automatically made his first team by virtue of having the highest ranking in the International Tennis Federation, but Major Jr and Newman sealed their deals as the respective champions and runners-up at the Giorgio Baldacci National Open in December.
Russell, who turned 35 on February 27, finished in a three-way tie with Grand Bahamian Simone Pratt and collegian Elana Mackey all winning a set, but she clinched the third spot based on the scores produced by all of the players in the first set.
Pratt had the second best score and got the fourth spot, leaving Mackey off the team.
Both Russell and Pratt will join Kerrie Cartwright and Sydney Clarke, who secured the top two spots on the team by winning and finishing as the runner-up respectively at the Giorgio Baldacci National Open in December.
BLTA president Darnett Weir said while the Fed Cup is scheduled to play in Group II during the first week in June in Panama, they are still waiting on confirmation on when the Davis Cup team will play their round robin in Zone III.
"We have a very talented, skilled team for Davis Cup so I'm hoping that they get to play," said Weir as concerns of the coronavirus spread. "I'm hoping that they don't put the games off because we also have a very good Fed Cup team."
Rolle won his opening match on Friday, beating Rodney Carey Jr 6-3, 3-6, 6-0 on Saturday.
Bain won by default over Carey. That set up Sunday's showdown between Rolle and Bain. After a hard fought 7-5 win in the first set, Rolle settled down and used his wealth of experience to prevail with a 6-1 decision.
"It's always a pleasure to be a part of the Davis Cup team, whether it's captain or as a player or as a captain and player," he stressed. "I've been doing this since I was 16, so if I can continue to do it, why not? I love it."
After falling behind 0-2 in the first set, Rolle rallied to go up 4-2, but Bain didn't give up as he evened it against 5-5. Rolle then broke Bain and held serve for the first set. In the second set, Rolle got the early break and held for a 2-0 before Bain got on the scoreboard as he held serve. Rolle then went on to reel off the next four games with two breaks to clinch the set and match.
"I practice with some of the guys some time, KJ, Justin Roberts, Justin Lunn and I feel when I hit with them I can keep up, so why not try and play in the tournament," he stated. "I know I may not be able to play singles at Davis Cup, but I feel I could still play a big role in doubles. That's why I continue playing."
Rolle, like Weir, is hoping that everything will settle down and the team gets to travel.
"It will be a pleasure to go out there and play," he said. "Justin Roberts will be playing with us for the first time, so it will be good for him to get his feet wet."
Despite the loss, 16-year-old Bain said it was a tough match against Rolle.
"Marvin played very well. He was very tough from the baseline and the net, so it was a really good match overall today," Bain said.
"The experience was good. It's always good to play a veteran. You never know what they are going to throw at you, so it was a good match to play against him today."
Looking back at his match, Bain admitted that he has to work on his first serve because he was double faulting a lot. "I just have to train more and practice more," he said. "There are some small things that I need to improve on. But I hope to one day be right there with them."