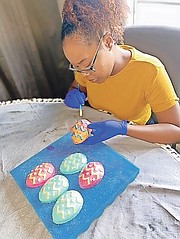 By ALESHA CADET
Tribune Features Reporter
acadet@tribunemedia.net
"Taking care of yourself is the equivalent of loving yourself." – This is a statement Rayeisa Basden firmly stands by. Having developed health issues due to job-related stress, she knows first-hand how important self-care is and hopes to promote this philosophy with her own line of aromatherapy bath products designed to help people relax.
Professional stress isn't the only challenge Rayeisa has had to deal with. She also lost her home in Abaco due to Hurricane Dorian, was forced to relocate to Grand Bahama, and was then made redundant. But regardless of these setbacks, she is determined to pursue her dreams of entrepreneurship with her brand of handmade bath products called Body Bahama.
Even while she was excelling in her psychology career, she felt unfulfilled. Ms Basden said she suffered from anxiety, lacked motivation and started having health issues that she has now realised were related to the stress she experienced on her job.
She also realised that she needed to take better care of herself if she wanted to be healthy in both body and mind.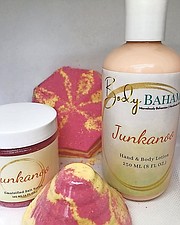 "I believe that self-care is a great way to improve our overall health. Taking care of ourselves reminds us that our needs are important too, and it allows us to properly care for and love others. Brands that promote this through gym membership, life-coaching, yoga, et cetera, all play an important role in improving the health of our Bahamian community," said Ms Basden.
And she wants her company to be a part of this beneficial network of local businesses.
"We focus on the importance of self-care and the many benefits that come along with it. Taking care of yourself is the equivalent of loving yourself, and this creates the foundation upon which all other love is built. The average person has numerous obligations, which often leads to things such as stress, depression, high blood pressure and a reduced immune system. Taking time out each day to focus on caring for yourself helps to combat these things and allows us to develop a healthy relationship with ourselves, improve our productivity, and fight illnesses. Self-care is extremely necessary, and at Body Bahama we aim to be an essential part of our customer's self-care routine," she said.
With a background in psychology, the 28-year-old said before starting her own company she wanted to be as well informed as possible. She took aromatherapy classes, as well as courses on how to make candles and several other bath and body products.
"I read books on entrepreneurship and researched ingredients. I didn't want to just start this company, I wanted to do it the right way to ensure that I would be an expert at my craft. I am a firm believer that scent has therapeutic benefits, and I've combined my love for bath products and my love for psychology to bring those benefits to my customers. Also, the more I dove into soap-making, the more I became interested in learning how to create a few other products that I enjoy using," said Ms Basden.
She added: "I have always been a creative, passionate person and the desire to now have the freedom to be that person every day grew stronger when I had my son in 2018, so I decided to start Body Bahama. A few months after Hurricane Dorian, my position was made redundant, so I've had a lot more time to focus on restarting and growing my business," she said.
"The overall goal for Body Bahama is to become a household name. The first major step to making that goal a reality is to open our first retail store. Body Bahama is a fairly new company, but it has been so successful and it has so much potential. We are looking forward to owning several stores throughout the Bahamas, and maybe even the United States."
The Body Bahama team has recently started shipping to Nassau and are looking forward to connecting with customers and building new relationships. Ms Basden would also like to launch an e-commerce website to make products as accessible as possible and to improve the ordering process.