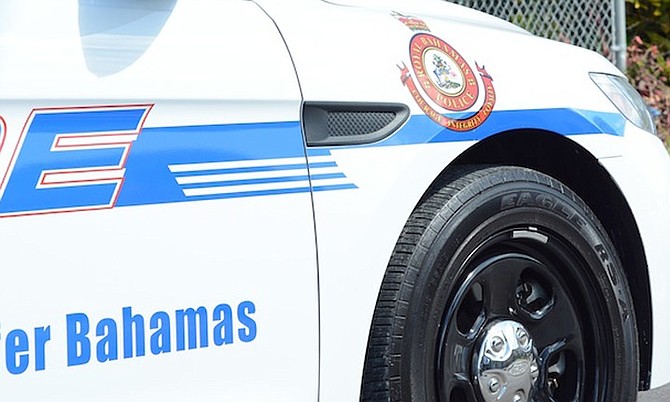 THE body of a man was found Monday afternoon in a shallow grave behind his home in Garden Hills.
Chief Superintendent Solomon Cash told reporters on the scene the deceased, believed to be in his mid-60s, was buried about 50ft away from the rear of the house. He said the body was probably there for about a day, but it would be difficult to determine what injuries the victim sustained until an autopsy took place.
A 24-year-old male relative, who The Tribune understands is the man's son, is assisting police with the investigation.
CSP Cash said police received a call from a concerned citizen shortly after 12.30pm who reported the discovery.
"Officers came on the scene and they confirmed that there was a lifeless body of a male partially buried in the shallow grave. The officers, they called in EMS, who pronounced the victim dead on scene."
He added: "I can say now there is a male relative in police custody who we suspect may have some involvement in it. Of course the investigation is still early. We're trying to unravel exactly the motivation behind this latest homicide."
CSP Cash said officers were told the man who is in police custody had spent time at Sandilands Rehabilitation Centre for mental treatment, but this had not yet been confirmed by police.
Also on the scene was the victim's brother, Trevor Thompson, who described the deceased as a person who got along with everybody.
"He was loving," Mr Thompson said. "He was caring. He was everything in one. There's nothing bad we could say about him... he always tried to look out for his kids and his family. It's unfortunate it had to come to this but if this the way God have it to be, that's the way it is (sic)."
According to Mr Thompson, he believed his brother lived with his two sons, one of whom had mental issues and was in and of Sandilands.
"Despite all that, my brother tried to open his arms and tried to help him the best way...as best he could."
Monday's murder is the 18th for the year according to The Tribune's records.
Anyone with information on this incident is asked to call police at 502-9991/2 or Crime Stoppers at 328-TIPS.