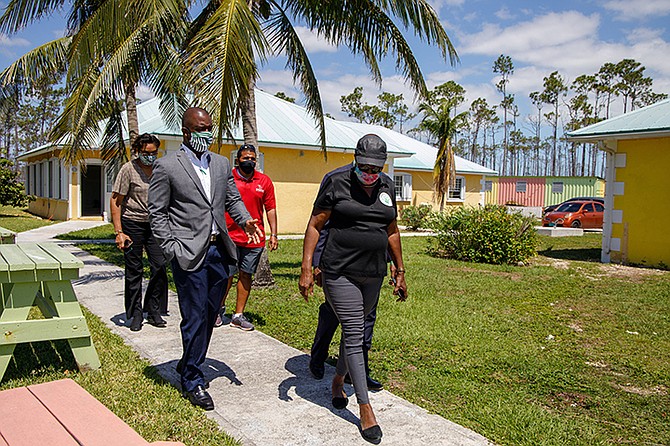 By Denise Maycock
Tribune Freeport Reporter
dmaycock@tribunemedia.net
THE Grand Bahama Children's Home received a $30,000 cheque donation this week to assist with hurricane renovation at the facility.
The funds, which were donated by Family Guardian and Sargicor Financial Corporation, is earmarked for the refurbishment of the computer lab and library, which were extensively damaged during Hurricane Dorian last September.
The Home is still in the rebuilding phase, and the children have been temporarily relocated in New Providence until the facility is fully restored and reopened.
Mrs Sheila Johnson-Smith was very grateful for the donation on Wednesday from Family Guardian. She thanked Mr John Hepburn, agency manager, and his team, for their generous gesture.
Additionally, Mr Hepburn noted that they will also purchase new tablets for the children, and two wheelchairs for the physically disabled resident children.
"They have stepped up to the plate. The $30,000 they are giving us will go to rebuilding the computer lab and library, and they are also getting tablets, and wheelchairs - how awesome is that," said Mrs Smith.
The GB Children's Home cares for up to 40 children ages 0-12 years. It is jointly funded by the Bahamas Government, The Grand Bahama Port Authority Limited, and the Grand Bahama community.
The Grand Bahama Children's Home was formed to help care for children who needed to be removed from their families for reasons of abandonment, abuse or neglect. The Grand Bahama Children's Home was opened in 1980.